If you were to drop in to the Rotorua Youth Centre on Thursdays, 3‒7pm when the Skill Share Café is in full swing, you could combine learning life skills with a meal.
The driving force behind the café is the centre's Intergenerational Project Leader, Colleen Mullin. It's part of Project Generate, a wider initiative that connects people of all ages in the Rotorua community, enabling young people to learn life and work skills, while older people can enjoy passing on their knowledge.


"You can learn all sorts of things at school but you don't learn how to actually live," Colleen says.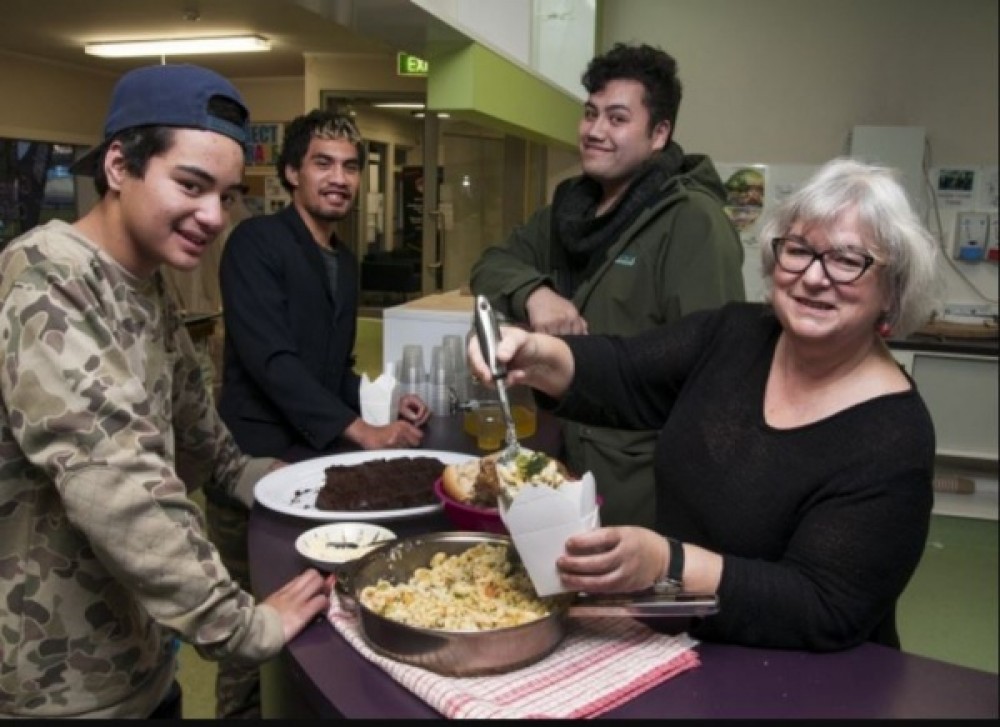 "Many people can't cook, and if they had to change a washer or mend a cupboard they wouldn't know how. Once upon a time people would have learnt at least some of this at home, but what we've discovered is that it's not just this current generation that's missed out on these skills, it's the previous one, so they don't even know how to teach the younger ones."


Mixing up the ages


Colleen, 53, has returned to home town Rotorua after working in Australia for some years. It's part of planning the next stage of her life to be closer to her family and have a place of her own. She has a background in business and community projects and the intergenerational project fits well with her own ideals.


"I don't always want to be around people who are just like me because you just end up doing the same things. I've always got a lot out of mixing up the ages in people I relate to, I think it's really important."


Starting from ground zero


Getting Project Generate past the fancy website stage has been a huge marketing challenge.


"Eventually we just decided to put a stake in the sand and say, 'Okay, every Thursday people are going to be down here showing stuff and other people can come down and learn carving, how to grow their food, cooking, sewing, repairing things, sports, whatever happens on the day.'"


So far there's been a good response, particularly from young mums bringing their families along and from older people eager to help out.


"Reducing isolation is a huge part of it," Colleen says.


Getting youth to think it's a cool idea to spend their Thursday evenings learning how to do handicraft or to cook is more of a challenge. Baiting the hook with a music skill share is next on Colleen's list.


"There are a lot of good young musicians in Rotorua, so we thought that would be a really good way to bring the generations together. I really believe in social spaces," she says.


"Places where people can go just to meet others. And if you're going to have kids involved, it's good that it's not a pub. For an intergenerational project it's got be a nice friendly place and it can't cost a lot, because Rotorua is not a rich town."


A generation of young entrepreneurs


Another part of the overall project is the establishment of a large community garden adjacent to the centre. Colleen organised The Big Dig, a day where community volunteers planted over 700 vegetables and spread 32m³ of topsoil over the garden beds.


"They're going to produce more broccoli than half the town can eat," she laughs.


She would like to see the garden products become a springboard for learning about business and for creating a generation of young entrepreneurs.


"Quite frankly I don't know where they're going to get jobs otherwise, because Rotorua struggles," she says.


"There are a lot of clever kids out there and if they grab opportunities the garden offers and go with it, we're there to guide them along the way and inspire them to do something that's not currently on their radar."


Becoming self-sufficient


Getting the Skill Share Café and the garden off the ground has produced a lot of "fantastic idea" comments, Colleen says, but she knows that follow-through is needed if the project is to succeed in the longer term.


"A lot of the intergenerational work that goes on around the world is organised on an institutional basis. Initiatives like teaming up a nursing home with a nursery school. Whereas here it's individual to individual, so it's a completely different challenge really – there's only so much we can do. After that people have to do it for themselves."

This story is part of a series exploring intergenerational relationships. The Connecting the generations series is one way the Mental Health Foundation helps people prepare for a later life that has meaning, purpose and joy.