"We baked cheese scones, our office favourite, and organised a picnic on the river front, we took a guitar and sang waiata and enjoyed laying in the sun... all on the gorgeous Māwheranui (Greymouth River)," says Freedom Preston, team leader of Community & Public Health West Coast.

"The white baiters were out and about, some of the public were walking along the wall in the sunshine, tourists were exploring, families were cycling, it was a perfect spot to see people enjoying the river which is a strong focal point and identity of Greymouth."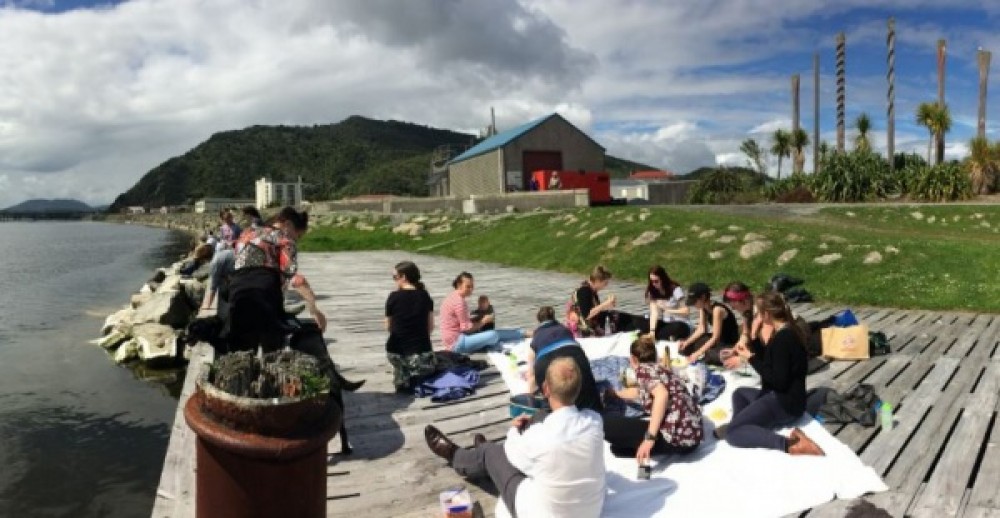 Ms Preston says the Lockout was an opportunity to take a break, but also to remind staff to walk the talk, when it comes to health promotion messages.
"
Mental Health Awareness Week
always provides our health promotion and protection teams a space to promote wellbeing messages in our community and social networks, and in doing so, it reminds us about modelling those messages and looking after our own wellbeing."
Ms Preston says they ran a quiz about the Greymouth River and drew sketches to share with their colleagues, who couldn't join them for the Lockout.

"The quiz and sketching allowed our creativity and spontaneity to be ignited and the general warmth of stopping, watching the river and engaging with passers-by gave us all a mental break from business as usual."
Nutrition Health Promoter Jade Winter says staff connected with each other and enjoyed the sunshine.

"I noticed sculptures that I haven't noticed before, I felt more energetic and connected with the environment and the people around me and I had a full belly of scones!" Ms Winter says.

"We are fortunate to work in an environment where wellbeing is a priority. It's always nice to share these moments with team leaders and management."

Health Promoter Rosie McGrath says she noticed positive changes after the time spent in nature.
"I learned some things about my place which I didn't know, and being together and laughing made me feel lighter and less stressed," Ms McGrath says.

And in case you're wondering whether there's a secret West Coast scone recipe…

"The scones are essentially three ingredients; buttermilk, flour (gluten free to be inclusive) and tasty cheese (plus a pinch of salt and cayenne pepper)!

"If you dug deep into the basket you would've found a few without their bottoms… deliberately cut off as they were only good for the birds."
Read about Mental Health Awareness Week