Virginia Brooks' personal experience of losing two family members to suicide has given her an understanding of the emotions people go through following a sudden death and what can help them get through.
Virginia is the Suicide Bereavement Service Coordinator at the Mental Health Foundation and has spent the last two years putting together a number of resources for suicide bereavement support groups.

Virginia lost her sister and son to suicide, and says that has been key for her role at the Mental Health Foundation.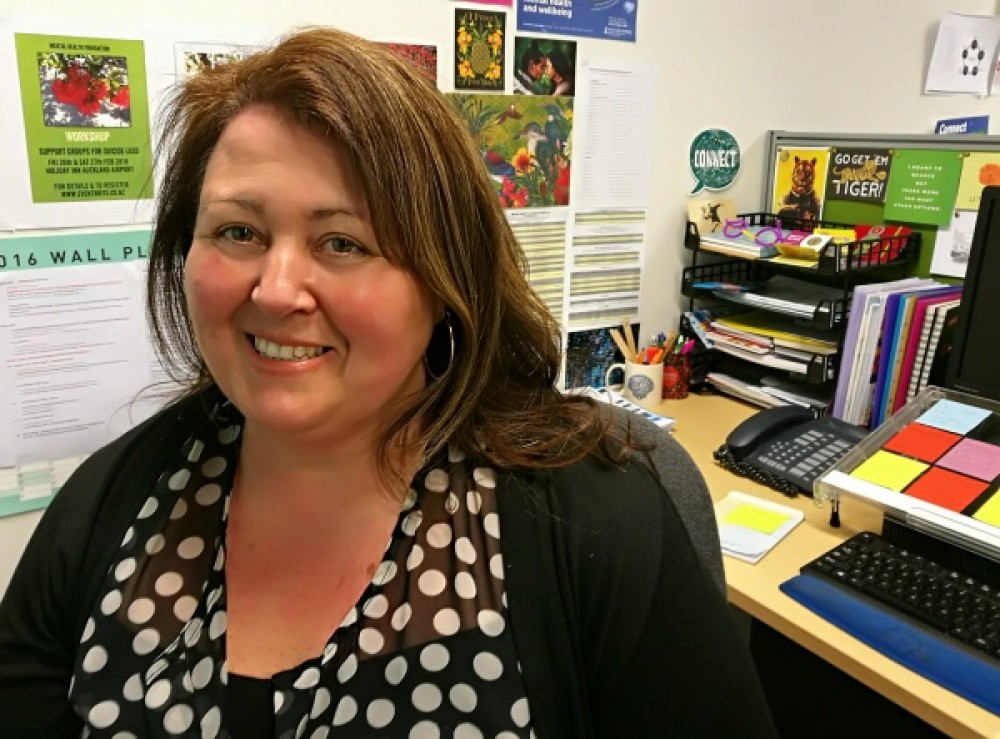 "Having experienced loss through suicide, I appreciate what people are going through. I'm really delighted I can use my personal experience to benefit others."
Part of her work helping others has been to produce a handbook called
Support groups for suicide loss: a handbook for Aotearoa New Zealand
, which is the first resource of its kind in New Zealand.
The handbook, which came out last year, offers advice about how to set up, and run, a peer support group.
Video series as added assistance
Other resources developed include a series of three videos:
Setting up a support group for suicide loss
,
Facilitating a support group for suicide loss
and
Managing group dynamics in a support group for suicide loss
.
Virginia says most support groups are run by volunteers in the community who don't have formal training in counselling, so having resources like these to help guide best practise is important.
Support groups offer connection and hope
A key feature of the support groups is that they provide peer support, which means there are people to talk to who have been through similar experiences.
"The support groups provide great connections with other people who are going through the same thing as you are, which is enormously beneficial when you've lost someone to suicide. It's a non-judgemental place where you can talk freely about how you feel and what happened," Virginia says.
"That can sometimes be hard to do, even with family and friends, because they might judge the situation or judge the person who died by suicide, so a non-judgemental environment is very helpful.
"The great thing about support groups is you learn lots from the other members by hearing their stories and that can be incredibly helpful. You also see people who are further along in the grieving process and that gives you hope."
She says that a support group doesn't have to be a group of people sitting in a circle on chairs.
"The key is peer support. A group can meet regularly to share activities and take part in things like walks or shared meals or people could get together for a sporting activity.
"A recent trend for some groups is to get together and craft their own photo albums and scrapbooks, which helps them remember the person they lost. Other crafts like weaving and woodwork can also work in a similar way."
Ways to help a support group
And there are practical ways for people to help support a support group. "Providing a free venue for the support groups, free advertising or even tea, coffee and biscuits all helps," she says. If you are interested in supporting a group in this way, the MHF would love to hear from you.
This year, the MHF ran a two-day workshop for people who wanted to start, or were already running, support groups. This provided a chance for people to connect in a way they hadn't before.
"My hope is to achieve more support and understanding for people who are bereaved by suicide and to strengthen peer support networks in New Zealand."
The MHF website has a list of suicide bereavement groups. If you are interested in starting a group, or have already started one, please contact us and we can guide you through the process.
We can also advertise your group on our website, and you can join our network for group leaders on Facebook. The handbook and videos are also free to view on the website.
Help us to help others
Virginia's work with suicide bereavement support groups is just one of a number of suicide prevention programmes the MHF delivers. We also work with the NZ media to support and guide them on safe and responsible suicide reporting.
We develop information and resources to support people who are worried about their own suicide risk or the suicide risk of someone close to them. And, through our information team, we guide people to the right services and organisations to help them in times of crisis.
If you would like to support the work of the Mental Health Foundation, including our work in suicide prevention, please consider making a donation.
Read about support for suicide loss