"Going to the opera and to the art galleries – swanning about doing things like that – that was the picture I had in my mind."
The actual picture now that Jo (68) has officially retired from her library career, recently married her long-time partner, Ralph, and is working part-time, doesn't exactly exclude those things, but her priorities are rather different.


Like many baby boomers, Jo is part of the "sandwich" generation, ie, people in their 50s or 60s helping ageing parents, adult children and grandchildren. Since her grandchildren began arriving (there are now four, all aged under five), she has been regularly lending a hand with child care to her daughter, Alexandra, and son, Carl, and their respective partners. It's a role she embraces joyfully.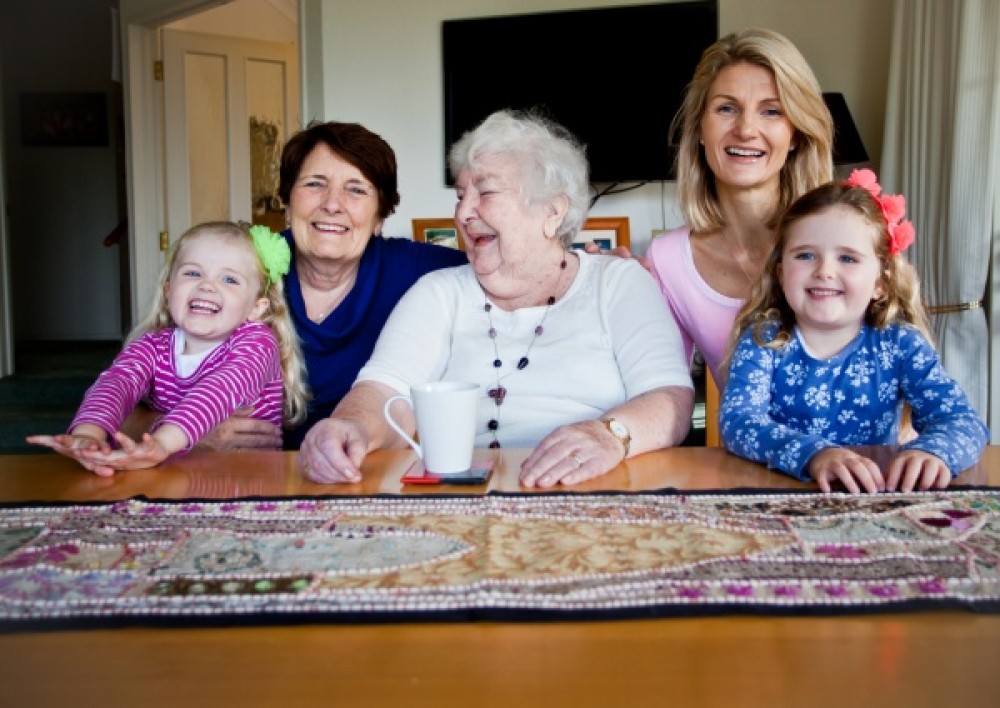 Caring at both ends of the spectrum


At the other end of the age spectrum, Jo's also involved in caring for her 95-year-old mother, Belle, who has Alzheimer's and lives in a rest home not far from Jo's house, in Pukekohe. They see each other regularly but, because of Belle's memory problems and her difficulty walking, it's getting harder to enjoy doing things together.


Jo feels lucky to have Alexandra and Carl settling in New Zealand, as both have spent long periods overseas and could easily have stayed away.


"I didn't ever expect to have them living near me – it's been a delightful surprise," she says, noting that "near" in Auckland terms is within a 50km radius.


Great female role model


In turn, Alexandra says she feels lucky not only for her mother's invaluable help, but that her girls have a grandmother who wants to be part of their lives.


"It's really important for them to have other female role models," she says. "And they can do different things. For instance, we don't have much of a garden so Mum has taken it on herself to show them the garden and how things grow. Where they live, she and Ralph can involve them in more of the rural lifestyle, like taking them to the A & P show."


For Jo, regular contact with all four grandchildren is important, not just for the hugs and warm greetings, but because they change so quickly. She enjoys watching the fascination small children have for simple things with a patience that, as a working parent, she didn't always have.


"I think you're too busy with your own children – you haven't got time to just be little with them."


Her own role model for grandmothering is based more on her granny, who was the sweet, pinny-wearing kind, than her nana, who wasn't sweet or cuddly.


"Granny was lovely but she lived way up in the north of England and we lived in the south, so we didn't really see much of her. Because I didn't have that connection with my grandparents, it's important to me now. My children didn't have that either.


When they were young my mother came to live in New Zealand, and I was in England. Their other grandparents were in Germany. Now I think they both appreciate the connection and encourage me to be part of their lives."


Planning ahead is important


Jo's delight in having a valued role with the new generation is tempered by sadness for her mother's situation.


"She used to be the life and soul of the party; everybody wanted Belle included because she was fun. But she delayed moving to a retirement village until it was too late. Now she's in the rest home with nobody that she knows. If you've got no memory, it's really hard to make friends. And she doesn't remember she had a lovely time with her grandchildren last Sunday, or that we're planning a big birthday celebration for her. It's really bleak."


Belle's difficulties have encouraged Jo and Ralph to plan ahead for their later years.


"We've decided we will move into a retirement village – the difficulty is in knowing just when! You need to move early enough to be involved in all the social stuff, so when you get to where my mum is, you've hopefully got some friends."


As for those thoughts about opera and art galleries, Jo says being a hands-on granny doesn't mean they're off the agenda, but she's grateful her children want her and Ralph to be such a part of their lives.


"They go out of their way to include us, and I feel so lucky because I don't think everybody has that."