"At age 43 I crashed and burned," says Malcolm Dixon.
That was almost 25 years ago, and at the time he held a busy and responsible job as Head of Haematology in the laboratory at National Women's Hospital.

Severe and prolonged stress had left him deeply depressed and suicidal, and he was admitted to what was then the Carrington Psychiatric Hospital in Auckland.

Malcolm's journey to recovery has included several subsequent hospital admissions, five in total, but throughout it all he has maintained his strong Christian faith.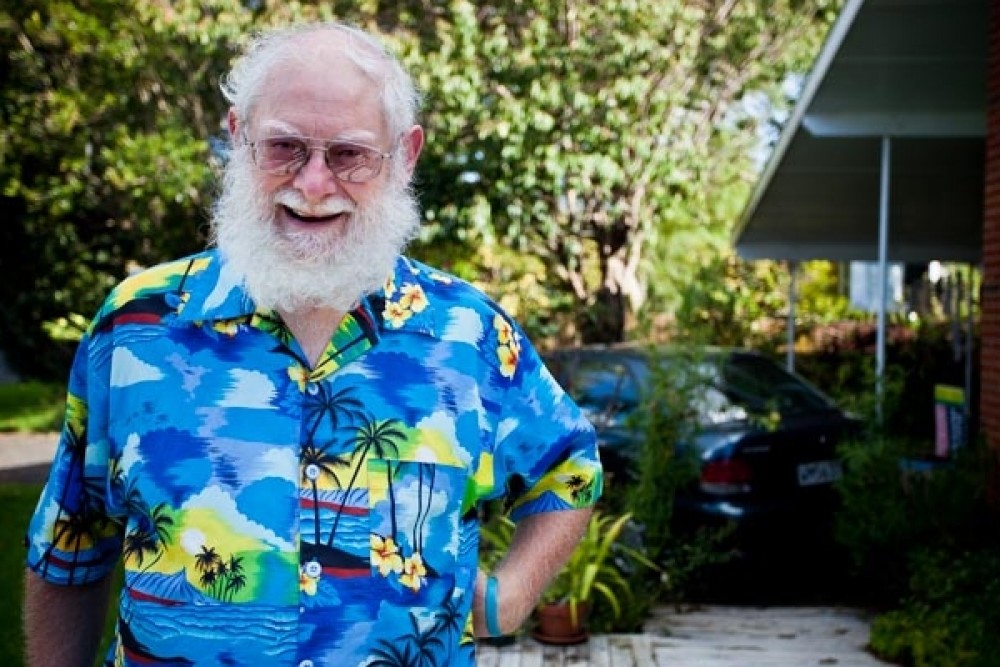 Although he takes medication, as far as he is concerned the major healing has come from God. "My faith didn't stop me from getting sick," he says, "but it helped me in my recovery, big time."
With his ready smile, easy manner, and white beard it's not hard to understand why Malcolm Dixon is a popular choice as Santa – a role he's embraced with great enthusiasm over the past couple of Christmases.
His own family includes a son and a daughter, and two grandchildren: the younger one, Felix, now 16 months old, smiles out from one of several family portraits hung prominently in the lounge of the modest home Malcolm shares with his wife, Pat. They've lived there for 32 years.

Currently their outdoor living space accommodates two ponies, rescued by their artist and photographer daughter Keryn. She lives with her husband in another part of the city, but comes over to Mum and Dad's in Ellerslie to feed and exercise Honey and Galaxy. Walking the ponies with Keryn through quiet suburban streets is a sight no doubt much enjoyed by the neighbourhood children, and the young at heart!

Early years
Malcolm grew up in a farming family, the eldest of six children – two boys and four girls. He left Kaipara College in Helensville at 17, and went straight to work in the hospital laboratory at National Women's, studying for his medical laboratory technology exams over five years: the equivalent nowadays would be a Bachelor of Science degree.

It was while living with extended family in the city that he met Pat. They had a shared interest in Scottish Country Dancing and both were Christians. They've been married now for 40 years, and while Malcolm is retired from salaried work, Pat works as head librarian at Elim Christian College in Howick four days a week.
Tough times
He acknowledges Pat's loyalty throughout the years of his mental illness; it was hard on the family.
"The children were very young and I missed out on a lot of their milestones over five admissions. It took incredible strength from Pat to bring them up," he says, recalling that there were prayers for his recovery from many quarters, and mysterious food parcels that would just turn up on the back doorstep.
Fortunately for the family's finances, Malcolm, who retired from his hospital job after 24 years, was able to have his National Provident Fund pension activated on the grounds of sickness, enabling them to pay off the last of their mortgage.
Getting back into the flow of life
After initially being what he calls "a guinea pig and walking zombie" as a result of the various medications he received, Lithium helped to stabilise Malcolm's condition for many years. His recovery was also helped by involvement over a number of years in the community mental health organisation GROW, where a key catchphrase was: "You alone can do it … but you can't do it alone."
He enrolled in a Manukau Institute of Technology course to learn about working with people with disabilities, and was quickly offered a job at Christian Ministries with Disabled Trust (now called Elevate Christian Disability Trust). He was the national coordinator for Joy Ministries (NZ), an interdenominational organisation for people with intellectual disabilities and is still an active volunteer in the disability sector where he helps out at camps and local events. He also produces a monthly newsletter for Joy Ministries Central/West Auckland branch.
His next period of employment was at popular fast food outlet, Georgie Pie, where he filled in shifts across the city, including at Greenlane (the only 24-hour restaurant), where he was invited to transfer fulltime. He was one of few staff who transferred over to McDonald's when they acquired the Georgie Pie chain. Over time, he was given more responsibility, becoming a crew trainer and area manager, and working in the Drive Thru. A lingering fondness and familiarity remains. "If I can push myself away from the computer and be where people are, Greenlane McDonald's is my first office!" he laughs.
Healthy resolutions
This year though, it's goodbye to burgers and Macca's icecreams. Malcolm is making a real effort to eat healthily, and has been rewarded by seeing the weight falling off. However his new regime of scrambled egg breakfasts, fewer carbs and plenty of fresh salads doesn't stop him from indulging in the odd bacon & egg pie. He doesn't drink alcohol and describes himself as a "moderate" exerciser. There's walking the ponies, of course, and if he's driving he's usually careful to park some way from his destination – not hard to achieve in Auckland – and to take the stairs instead of the escalator wherever possible.
He used to be an enthusiastic cyclist, especially when his now-married daughter borrowed the car so much when still at home, so another good intention is to replace those worn-out brake pads and get back on his bike. At 67, he enjoys a power nap without guilt. He's learned from experience to look after himself. He regrets that he didn't have the skills to do it earlier in life.
"I learnt the hard way in the hospital lab, where the patient is number one. The proper way round is if you look after yourself first, then you are able to look after others. If your tank's not full how can you help others?"
Malcolm had a set-back seven years ago when he began experiencing a reaction to the long term use of Lithium, a loss of kidney function causing drug-induced diabetes insipidis. His doctor took him off all meds, and in his own words Malcolm "went high again". Switching to Epilim has helped him back on track.
"That, combined with a whole lot of other different things in my lifestyle, means I've got my life back," he says. "I'm a fully productive member of society again!"
Connection and creativity
Malcolm jokes that he has so many interests, he's hardly ever home. He puts real effort into connecting with people, invoking the adage that "strangers are friends you haven't yet met".
"Another community of people I know that can be quite a time waster," he admits, "is being on Facebook. Five hours can go just like that!" On Tuesday nights his great love of poetry sees him down at the Poetry Live evening at The Thirsty Dog, an inner city pub. Here he enjoys the camaraderie of poets from all walks of life, sometimes gets to recite one of his own works during Open Mic sessions, and has had the joy of seeing one of his poems But Sir in print in the group's bi-annual publication, Live Lines.
Singing is another interest. He's in the tenor section of the Pa Mwamba Singers, a choir formed by Christian composer Matthew Raymond, and now led by Reverend Ron Lau'ese, who is associated with Greyfriars Presbyterian Eden Epsom Church which Malcolm attends. Come December the choir joins in a mass choral event – the free Christmas Family Concert with the Auckland Symphony Orchestra at the Auckland Town Hall. Last year he not only sang, but, in his role as Santa, also took up the conductor's baton for the last item.

A mission to flourish

While he's a man of obvious artistic talent, Malcolm's greatest passion – maybe mission would describe it better – is to help others avoid what he has had to go through to stay mentally well. Things like helping them to recognise the signs of stress, knowing when to take breaks, and being able to say "no".
"It's a big question, 'How are you?' So often New Zealanders will say, 'I'm OK'." People don't say how they really are, or realise 'that it's OK to talk about it', as Sir John Kirwan says.
"A big thing I'd really love to see with primary schools and colleges is for them to help young people acknowledge that there will be tough times, but to ensure that they are given the skill set to cope."
One of his voluntary roles is being on the governance board of the mental health service users' organisation, Changing Minds. It's a role Malcolm embraces with typical enthusiasm.
"I am certainly a people-person now, and am really passionate that people not only recover from their mental distress, but that they thrive and flourish, and build resilience – that people of all ages have coping strategies for life's unexpected events. I am also strongly interested in ensuring that there is a reduction in the stigma and discrimination that often emerges in regards to mental health and addiction issues."
Malcolm regularly shares his own experiences at community events associated with mental health and wellbeing, often as a guest speaker.
A new challenge
Not long ago Malcolm was challenged by a colleague to write his own life story. It's something he's seriously considering, and he's taken the first step by going to an introductory writing workshop.
"I would like to share that there is hope. Encouraging others, yeah. Being able to write down what I've learnt over the years, because that can be an inspiration to others as well. Pass on the tough journey, especially for those who are Christians," he says.
He's a great one for inspirational words, and on the back of a bus he recently noticed a sign that resonated with him. "Love the skin you're in", it read. "I feel I do," he says, "but it's taken a while to get there."
"What lifts my spirit? Knowing that my life has purpose, has value. That gets me out of bed in the morning."
Comparing himself now with the person he was in his 40s, he sees big changes. "I think in those days I had very low self-esteem. I'm at a place now where I like myself. I used to be full of fears, but I've worked through that; because that was a big thing as well. And I've learned to be flexible. There are so many days that don't end up as I have planned!"
When is a person old?
"Age is only a number. I think a person is old when they have ceased to wonder or to learn, they've lost all interest in life, don't believe they have a contribution to make, have ceased to have a passion for living. It's an attitude.
"Getting older in our society can be a challenge. A big thing too, especially for an older person, is to know that they're needed."

What brings you the greatest satisfaction at this time of your life?
"I think helping others, having friendships, being fully rounded. It was said of Jesus after he'd been at the temple at the age of 12, that he 'grew in wisdom and stature and in favour with God and men' (Luke 2:52, NIV). That's the whole four square thing – mental, physical, spiritual and social – just in that one verse. And to know that you're loved and you can love others. 'Love God, love men.' It's about balance."
Notes To Self – a poem by Malcolm Dixon
Do I have to do everything?
Do I have to pack so much in?
Just because I'm awake do I have to be "Do, do, do"?
NOTE TO SELF,
Thou shalt have a day off.
Do I have to stay up so late?
Do I really have to go to Maccas?
I have to escape the confines of the home, push myself away from the computer
– escape to the company of people
NOTE TO SELF,
Go to bed at the proper time
"You only see me when you want something", chides Aunty Lou, Dad's sister
NOTE TO SELF,
Deliberately pop in to folk to just hang out
Lana hugs me in welcome, an instant unspoken acceptance
NOTE TO SELF,
Give a gift without a thousand words
"That's a good mix" encourages and launches me to make a better manual wheelbarrow concrete mix
NOTE TO SELF,
Fan into flame small beginnings
Speaking the truth,"I got the same book last year" (though in a different cover)
costs me any future birthday or Christmas presents from my bro
NOTE TO SELF,
Before opening mouth to change feet, engage brain
When I feel really oppressed by things done to me,
NOTE TO SELF,
do something for another (so empowering).