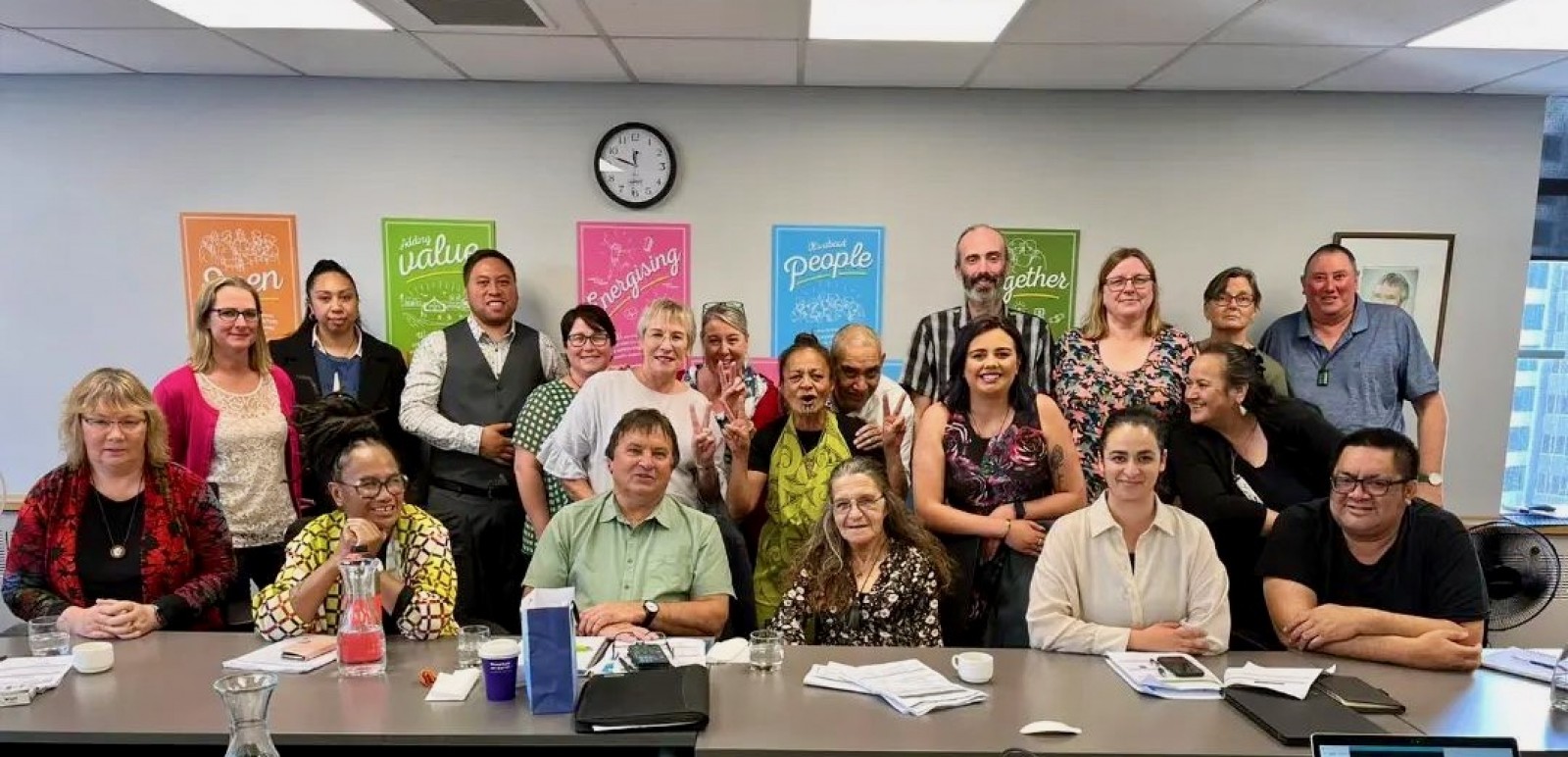 NAMHSCA in 2022: Claire Moore, Sherida Davy, Tee Siataga, Sharon Reid, Aaryn Niuapu, Alexia Black, Chris Hocken, Frank Bristol, Sally Kirk, Trish Bennett, Dean Rangihuna, Joe Hall, Dave Snell, Jordy Bealing, Dianne Black, Clarissa Chandrahasen, Cec Miller-Heperi, Tracey Cannon, Johnnie Potiki and Jason Haitana.
We all know the mental health system needs work – and not many know this better than consumer advisors. Consumer advisors are people who have both been through mental health services personally (for themselves, or for their whānau), and who also help other people and their whānau navigate those services as a job. This means they are in a unique position to advise on how the mental health system could change for the better this election.
To understand what consumer advisors would change this election, we asked one of the leading organisations representing them – NAMHSCA (The National Association of Mental Health Services – Consumer Advisors). We talked to their co-chairs, Moko Kairua and Dave Snell, who collated NAMSHCA's collective response to our pātai.
Who are NAMHSCA?
NAMHSCA is an organisation that represents lived experience and whānau advisors in the mental health space. Our members have personal experience of Aotearoa's mental health services, either through their own personal journey, or that of their whānau members. We have members from most regions in Aotearoa and work closely with Te Aka Whai Ora (and other) organisations to ensure people with lived experience (including tāngata whaiora and their whānau) inform the way mental health services are planned, delivered and evaluated. We also provide aroha (compassion) and manaaki (support) for each other in the challenging spaces we work in.
We have a Māori caucus, a general caucus, and hopefully in the very near future a Pacific caucus. We always aspire to create spaces where multiple voices can be heard, as equity is a key value that our members hold dear.
What are the top four things NAMHSCA would change about Aotearoa's mental health system?
To have more information available around what services people in distress can access, and how they can keep mentally well during tough times – especially for our youth and older people. We need more collaboration to make this happen – services can't operate in silos. Our whānau need a simplified system that guides them through their recovery journey.
To have more people who have personally experienced mental health challenges and navigated our current mental health and addictions services to lead mental health service projects and organisations. We would like to see all health organisations having lived experience leadership at a director level, which is line with current research and Aotearoa's health strategies. Having this leadership in place will mean lived experience wisdom or mātauranga will drive the work, rather than being an afterthought.
To put more resources towards developing the non-clinical workforce (for example peer support workers, consumer advisors, whānau advisors, and cultural support workers) and empower this workforce to do the work they do. Building up this workforce will also help lessen the high workloads of the clinical workforce.
To have mental health services that put culture first, and clinical knowledge second, rather than the other way around. Who a person is and how we can strengthen that should always come first – and then medical knowledge if that knowledge is needed. It doesn't matter how many years of study someone has done, if they can't or don't connect with someone as a person, they have lost an opportunity to support them in their journey to wellbeing. The way to build this connection is through recognising a person's culture and not focusing solely on a mental illness diagnosis.
What would be the number one thing NAMHSCA would ask the post-election government – no matter who they may be – to do for Aotearoa's mental health?
To recognise lived experience as equal in value to any other body of knowledge – and we ask every organisation, political or non-political, to do the same.
We ask that the post-election government listen to what we have to say, implement and use that information wisely, and provide a payment or wage that recognises that mahi (work) as important.
What's something that your lived experience wisdom has taught you that other people would benefit from knowing?
Be kind to yourself. Treat your own challenges and mistakes with as much compassion as you would if it were your best friend going through it.
What uplifts your wellbeing?
Things that build hope – for example having adventures to look forward to. Also that other people, whanaungatanga, manaakitanga, and aroha make the world go round, whether it be through our own successes, or watching somebody else flourish and knowing we contributed to that success.
Want to join NAMHSCA?
If you:
work as a lived experience and/or whānau advisor (or equivalent role) for any mental health organisation, or
are on a mental health advisory group due to your lived experience
and you would like to join NAMHSCA, please contact one of its co-chairs:
Dave Snell at david.snell@waikatodhb.health.nz or
Moko Kairua at moko.kairua@middlemore.co.nz.
Authorised by Shaun Robinson, Mental Health Foundation of New Zealand, Eden 3, Ground Floor, 16 Normanby Road, Mt Eden, Auckland 1024.