This year is the first time the Riccarton Junior Knights Rugby League Club of 90 kids, aged 4–14 years, has participated in the annual New Zealand Pink Shirt Day campaign.
Pink Shirt Day mobilises schools, workplaces and communities to create environments that are safe and respectful for everyone.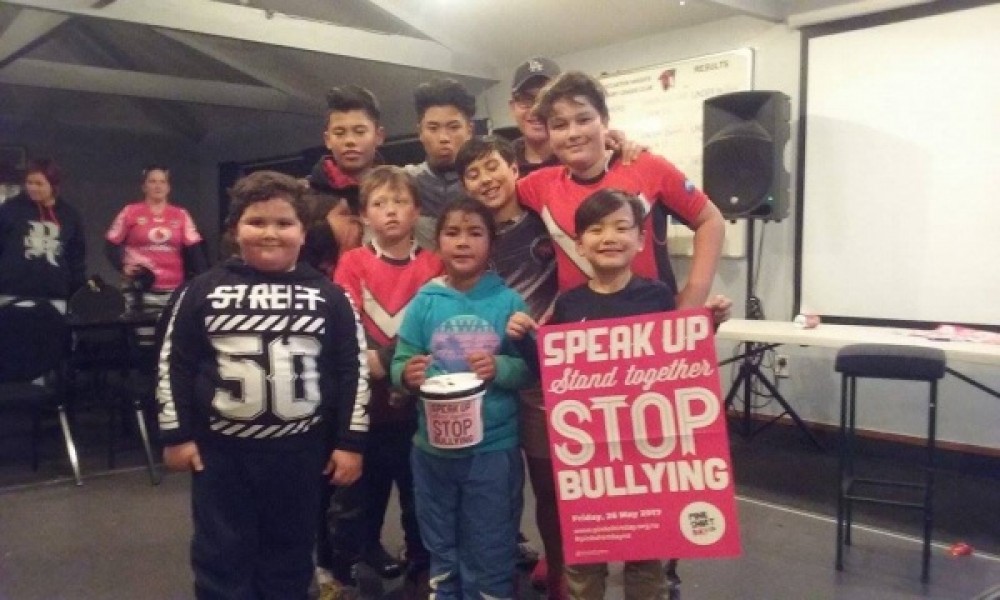 "We have started our support for the Pink Shirt Day campaign by placing the official posters in our clubrooms and changing rooms," Junior Club President Renee Barclay says.

Renee says there will be plenty of pink balloons at a club game the week before Pink Shirt Day on Friday, 26 May and players will be collecting donations from spectators.

They are also excited to be co-hosting a fun disco with Mega Air Trampoline Arena who share the same goal as Riccarton Junior Knights Rugby League Club: Fit and healthy kids both physically and mentally.
Providing support on and off the field

Renee says Pink Shirt Day also provides the perfect opportunity to launch the club's own year-long initiative to show each child they are special, they belong and they are loved.

"The initiative, No Knight Left Down, will focus on making sure players get the support they need. Whether they fall on the field or need emotional support off the field, someone will always be there for them.
"As a club, we want to support our kids to be fit and healthy, both physically and mentally, and creating a club where kids feel supported, safe and valued is key."
Recognising role models and promoting values

To model and promote positive values and behaviours, the club will recognise four players who express Pink Shirt Day-related values such as respect, kindness and courage in speaking up for others.

The four will be announced at the club prizegiving, with ambassadors also awarding younger players with Pink Shirt Day certificates.
"Through our Junior Knight Ambassadors, we want to encourage our older players to try their best on and off the field and be good role models for our younger ones."

Club values and behaviours will also be developed in consultation with players and families and promoted and followed through over the year.
Strengthening connections between young and old

Pink Shirt Day and the No Knight Left Down initiative will be embraced across all levels of the club.

"We all recognise that the younger players look up to the senior players, so we made a conscious decision last season to build stronger connections between the two."
If you've received emails from Pink Shirt Day in the past then you'll automatically be registered for Pink Shirt Day 2018 and will receive updates from us closer to the date.

If you didn't celebrate Pink Shirt Day this year but would like to join the mailing list for next time, then
register now
!
Read more about Pink Shirt Day