Flight Centre's iconic captain is swapping out his crisp white shirt for a loud pink version this Pink Shirt Day.
It's the first time New Zealand's leading travel retailer has changed the colour of their captain's shirt, who has been the figurehead of the
Flight Centre
brand since 1988, and it's all in the name of bullying prevention.
Flight Centre's design team developed two versions of the revamped pink captain: one with the captain wearing a pink jacket and the other with a formal shirt – with staff choosing the shirt as the clear winner.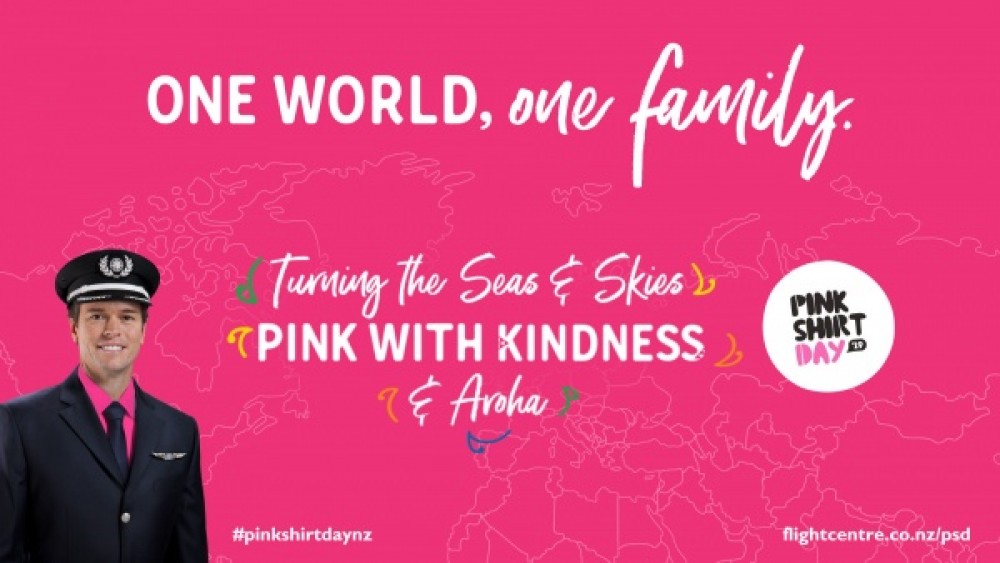 But giving the captain a pink twist is just one of many ways Flight Centre is supporting Pink Shirt Day this Friday 17 May.
Throughout all their marketing and digital advertising, everything you'll see from Flight Centre on Friday 17 May will be pink.
"This is something we've just never done before," Flight Centre general manager of marketing Jodie Burnard says.
"We've got 1,300 employees and 130 retail stores and every single person will be wearing pink shirts on the day as well."
On the day, randomly selected clients will receive pink cupcakes, compliments and random acts of kindness, while
social media
followers will be encouraged to reshare compliments created by Flight Centre with friends and family
online
.
All retail stores will be decked in pink and special pink compliment stickers have been produced for the day as well.

"In Flight Centre's head office, there will be a pink food bake-off for a Pink Shirt Day shared morning tea, a pink 'pimp your workstation' competition, and random acts of kindness will be encouraged," Jodie says.

Flight Centre's HR team is also updating the company's anti-bullying and harassment policy and will promote this internally on Pink Shirt Day.

"For us, Pink Shirt Day is a day to put those words into action and show that we are about spreading kindness and aroha."
Flight Centre has generously donated $10,000 to go towards the Pink Shirt Day 2019 campaign, showing just how committed the company is to preventing bullying.

Going all out for Pink Shirt Day is a reflection of staff really believing in the cause, Flight Centre New Zealand managing director David Coombes says.

"We've heard feedback that our people have really loved being part of Pink Shirt Day this year. They have been part of something much larger than their day-to-day roles that adds emotional value to their work and that's important to the Flight Centre family," David says.

"For us, Pink Shirt Day is all about creating one world, one family – which is our slogan. The day shows that regardless of religion, culture or how you've been brought up, it doesn't matter. We are all one."

David says it's one thing to talk about accepting diversity and preventing bullying, but Pink Shirt Day can help businesses take the next step and focus on putting those words into action.

"Aotearoa is a nation that prides itself on kindness and aroha, and Pink Shirt Day is a really good opportunity for us to all show that in action."

Flight Centre sees its involvement in Pink Shirt Day as an example of its broader year-round commitment to tolerance, acceptance of diversity and promotion of inclusion.
Over the next few months, their updated bullying and harassment policies will be further promoted to staff and the aim is for the random acts and words of kindness to become a regular event.

Flight Centre will also be reminding staff of their whistleblowing service which gives everyone in the business access to all senior leaders' cell phone numbers and third parties' call lines, ensuring confidentiality and anonymity.

The service is widely promoted throughout offices as well as on internal digital platforms, encouraging staff to reach out if they see or feel anything that makes them feel uncomfortable.

"When we say that Flight Centre is 'one world, one family', this is not a throwaway phrase for us. It is something that we firmly believe in and are committed to putting into action," David says.

"Pink Shirt Day provides a fantastic one day focus for this – but we are committed to continuing this work throughout the year."