A series of free workshops have been run in the lead up to Pink Shirt Day 2019 to help New Zealand schools create more inclusive environments for rainbow rangatahi.
The workshops were developed after past Pink Shirt Day participants said they wanted Pink Shirt Day to have a strengthened rainbow focus and school-based respondents wanted bullying prevention workshop for schools.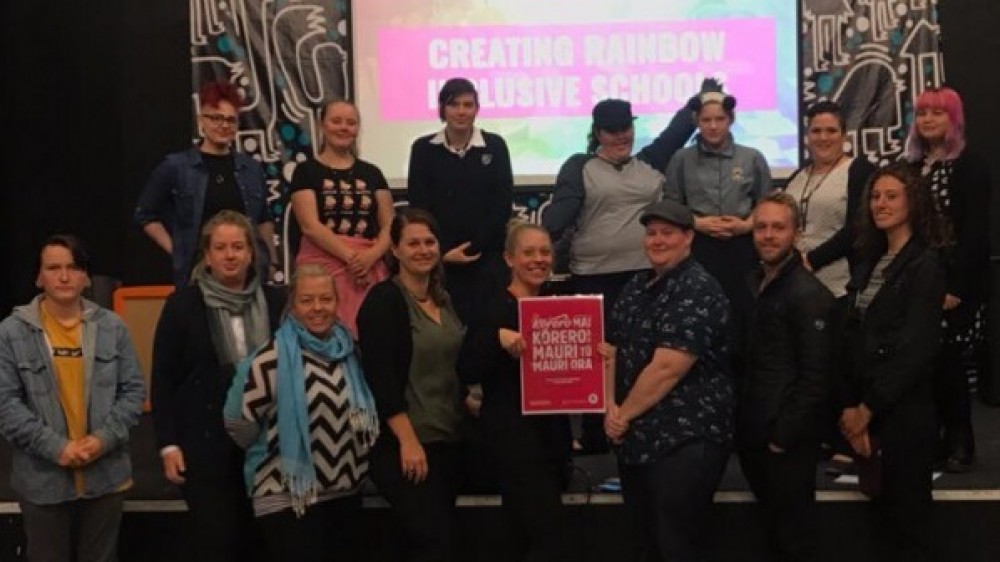 Rainbow organisation InsideOUT was funded by the Mental Health Foundation (MHF) to run the workshops, which gave participants easy, practical things to take away and implement in their schools that make a big difference – such as providing gender neutral uniforms and bathrooms that anyone can access.
InsideOUT workshop coordinator Emmett Roberts says the workshops were a chance for schools to connect and learn from one another about creating safe environments.

"By working together to celebrate our rainbow diversity, we can prevent and stop homophobic, biphobic and transphobic bullying in schools. The workshops were open to both teachers and high school students which was incredibly effective and empowering for everyone who participated," Emmett says.

Several participants commented on the power of hearing young people speak about their experiences:
"It provided a different perspective – we never usually get to have such rich interactions amongst staff and students."

"The youth voices were so important. I can see I have been too complacent. It's time to get proactive in my school."

"Was so awesome being in a professional learning environment with students and adults. Their voices are so valuable!"
The workshops covered a myriad of different topics – everything from the basics of what bullying and discrimination are, to the nitty gritty of starting and sustaining a rainbow diversity group or queer-straight alliance.

"We also talked about the importance of having positive LGBTQIA+ representation across the curriculum, challenging gender stereotypes and unhelpful language and encouraging professional development training on sexuality and gender diversity," Emmett says.

Participants were encouraged to set goals around how they could make their school safer and more welcoming for rainbow students. Here are some goals that participants set:
"When I hear biphobic, transphobic or homophobic comments, attitudes or policies and procedures, I will speak up and suggest change."

"I'll make sure my school participates in Pink Shirt Day."

"I will do my best to stop casual homophobia – things like intervening when people use 'gay' as a negative term."
While the workshops had a large focus on preventing bullying, they also addressed how to respond to homophobic, biphobic and transphobic bullying.

"We looked at the role of the bystander, reasons why people might not intervene and how to intervene safely," Emmett explains.
"The workshops are just a starting point for schools to make really impactful changes so our rainbow rangatahi feel comfortable, safe and heard."
About InsideOUT


InsideOUT is a national charity with the vision for all young people of minority sexualities, genders and sex characteristics to have a sense of safety and belonging in their schools and communities. InsideOUT is a member of the Advisory Group for Pink Shirt Day.