Laurel Stowell and Richard Thompson can recall conversations with friends over the years about how they'd like to live once the children were grown.
Not exactly a commune for oldies, but some way of sharing resources and values with people they liked, while maintaining their own privacy. At that time the Whanganui couple, now in their late 50s, were living in a damp "character" villa on a lifestyle block.


"We also thought we'd like to be close to town but still rural," Laurel says. Fast forward 20 years to Delhi Avenue on the rural outskirts of Whanganui. Here you'll find the end product of those years ago conversations.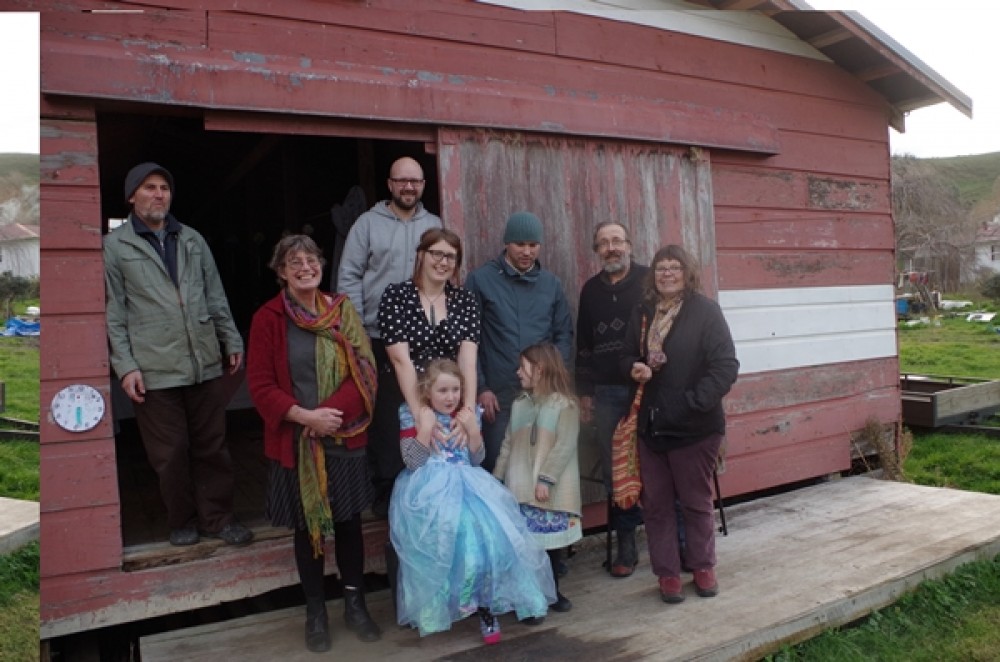 Delhi Village is a cluster of houses in various stages of completion set on 12.8ha of former dairy farm. The land is divided into 10 separate titles. Each title-holder has a smallish section with the remaining property owned in common. Finances and living arrangements are separate.


The ethos is about creating a sustainable community with a friendly atmosphere. People look out for one another, but pretty much get on with their own lives and jobs.


"The only thing you are absolutely required to do is take part in decision-making around the communal property and activities," Richard says.


Bringing the generations together


What started as an idea for baby boomers is now inclusive of younger people. Early in the planning stages Laurel, Richard and friends who'd bought into the project, realised that if the village was to flourish, it was important to have a spread of age groups. This hasn't been easy for some of the younger people struggling with finances, but the current shareholders range from their 30s – including singles and couples – to the oldest who has just turned 70. There are several children, the youngest of whom is two-year-old, Felix Guy.


His parents, Myles and Melissa, both grew up on farms and have lived on lifestyle blocks. It was quite a lonely life for mother with young children Melissa admits. Delhi offered the possibilities of providing a rural upbringing for their children without the isolation of a farm.


"Doing it with other people was a novel concept. Delhi is part of a modern day revival of what I believe would once have been a village setting," Melissa says.


They've been shareholders for some years, weathering times when the project looked shaky. They are looking forward to moving permanently to Delhi with Felix and Cosette, who is six.


"It's nice to be part of something where you belong," she says. "It's so easy for young mums to feel a bit lost. My ideal would be being with family and grandparents, but that's not possible. The Delhi people don't replace the grandparents in any way, but this way of living just feels more natural to us."


For Laurel, Richard and other shareholders whose children have grown up, having young children around the village is life-enhancing.


"It's a great excuse for bonfire nights and toasting marshmallows in a safe environment for the kids to run around in," adds shareholder Deb Frederikse, whose only grandchild lives in Hawke's Bay.


Learning new tricks from old dogs


Myles has a background in agriculture and forestry. He's looking forward to learning more practical skills from the older men.


"There are guys there that have built houses, designed and made their own tools. I don't have those skills yet and I can certainly learn from them."


Richard is involved in a forestry planting project further up the Whanganui River. Growing trees is a slow business and he in turn is happy that Myles will be around in years to come.


"Knowing that we've got someone here like Myles to look after it makes you feel even more enthusiastic about the project's sustainability," he says.


Deb imagines she'll enjoy growing older at Delhi Village.


"Just helping one another, I like the idea of sharing. It's great having younger people here and I think it's more enjoyable for the people who are on their own. It's an interesting mix and we all have different strengths. It's a place where people are happy and busy. It's a good feeling."


Laurel agrees: "The exciting thing is this long future. Right now we've got a massive project converting the woolshed into a community space. There's always something to get up in the morning for."