Cory the 26-year-old plumber, whose nickname was "caveman" due to his hairy appearance, decided to shave off his waist-length dreadlocks and bushy beard following the suicide of a close friend.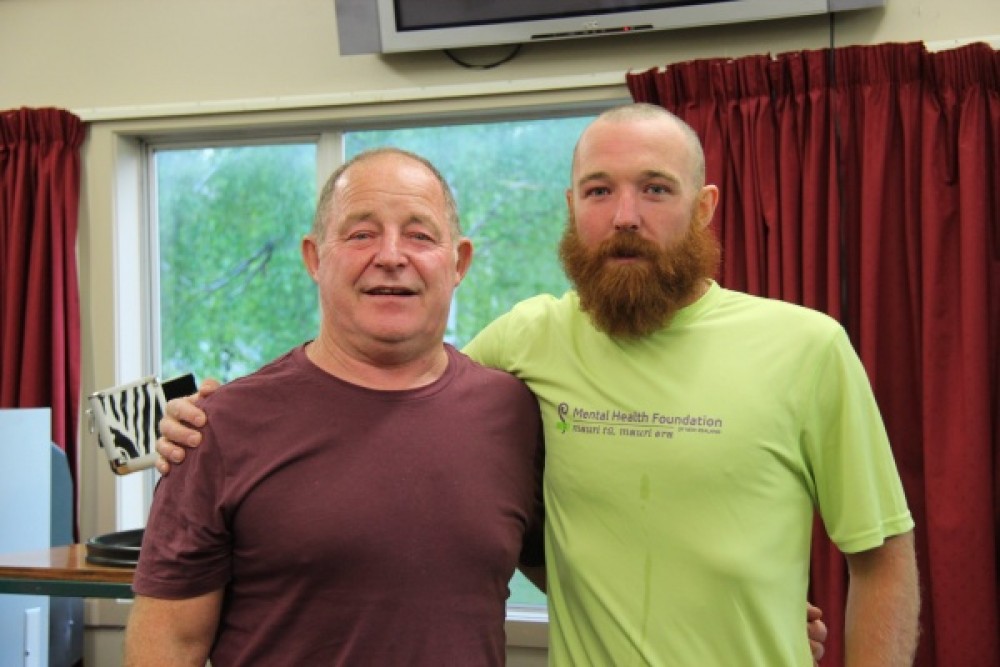 "In 2015, I lost one of my good mates to suicide and that was one of the main reasons I decided to shave my dreads off. I've also experienced depression as well so I wanted to raise awareness and let people know it's OK to talk about mental health and if you're not feeling good," Cory says.

About 60 friends and family packed into the Cromwell Rugby Club in Central Otago to witness Cory losing his dreadlocks and beard in his "shave to save" fundraising event.
A local hairdresser shaved his 10-year-old dreadlocks and one-year-old beard off for him.

"We also had a couple of hundred people who watched it being streamed live on Facebook."
Cory's father gets in on fundraising cause

But Cory wasn't the only who went under the razor. Cory's father (pictured on the left) shaved off his 30-year-old moustache to show support for his son's cause.

Cory says he's rapt to have raised over $6,000 for the Mental Health Foundation (MHF) from the event. "My goal was $5,000 so it's pretty awesome."
And he's getting used to his newfound baldness. "I'm quite enjoying not having my dreads. I always had to tie them up for work and they'd always get pulled playing footy. My head was cold to start with but it's all good now."

Cory's dreadlocks are not done and dusted though – two of them were retrieved for keepsakes.

"My mum kept one and one of them is hanging up in the Cromwell sports club."
Support helps Cory get through

Cory had his first experience with depression himself three years ago and knows the importance of reaching out to others for help.

"I was living in Australia at the time working in the mines and not having a life… it was a mixture of stuff happening on site and the crowd I was in… I was drinking a lot and felt like I had to be drinking to have fun and to make the stress of life go away.

"Then I came home to New Zealand and asked mum and dad for help."

Cory's mum had experienced depression so she knew what he was going through.
"I went to our bach with dad and chilled out for a couple of weeks and went to the doctor and got some medication, which I took for six months and I started feeling better."

Cory, who now co-owns his own plumbing business, says having support from friends, family and work was crucial to his recovery. And he has a message to people out there who might be struggling.

"People need to know there are people out there willing to help. You don't have to deal with it by yourself. It's not unmanly to ask for help"