This year (2014) he'll celebrate his graduation with a Bachelor's degree in Social Work from the bi-cultural university, Te Wananga o Aotearoa, after four years of full-time study.
And at 67, an age when he could comfortably retire, Wayne is about to take on another new challenge.

The former businessman has set up the Evergreen Trust, a non-profit service to meet the needs of older Chinese immigrants who have a hard time adjusting to their new lives in Auckland.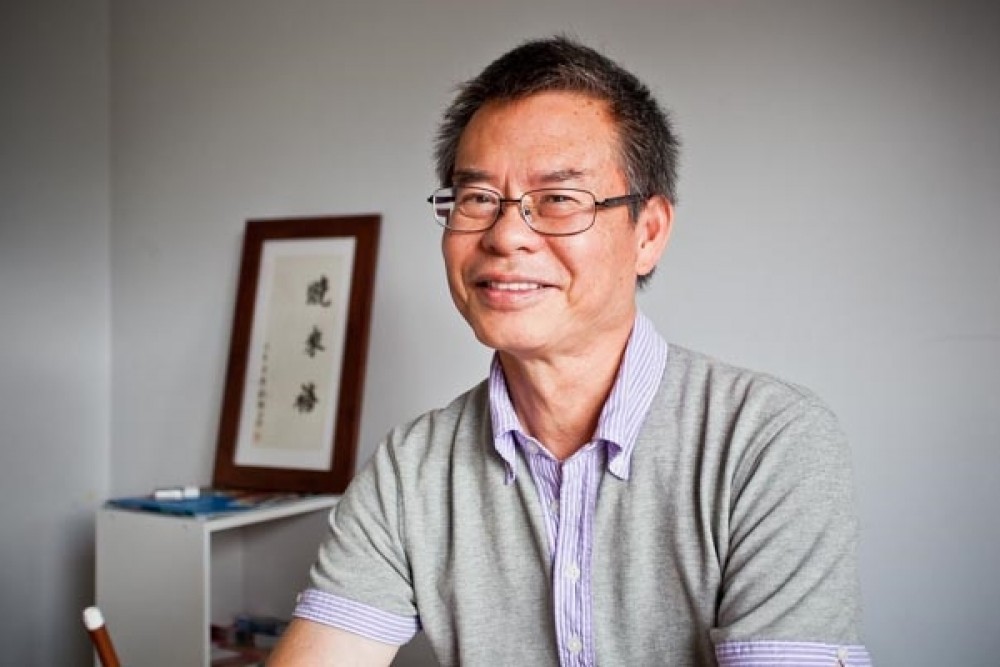 Wayne Leong was born in Macau, the former Portuguese colony which, like nearby Hong Kong, is now part of the People's Republic of China. He was a successful accountant before immigrating to Auckland in 1988 with his wife and two young daughters, Vivien and Trish – then aged seven and almost one-year-old. The family liked to travel on their annual holidays, came to New Zealand and fell in love with the pure air and water, great scenery and friendly people. They decided to emigrate. After looking around for a business to run, Wayne took on the lease of a lunch bar in Freemans Bay which he ran for some years. When the lease expired he changed tack and went into real estate, working for three different companies, while the girls went to school and later graduated from university – Vivien with degrees in accountancy and music performance, and Trish with a law degree.


Nowadays, Chinese people make up the greatest number of new migrants in New Zealand, but in 1988 there were not so many. Wayne quickly found out that the English he'd learned in school was a little different from what he was hearing all around him.


"Yes it was very hard," he recalls. "When I heard people speak I just couldn't understand some words because the accent is a little bit different and I think, 'oh my English is so bad maybe I can't live here because I can't understand what they are talking about!'" Gradually he picked up what was going on and nowadays says he can understand what most Kiwis are saying.


It wasn't easy time for the family either. Wayne and his wife separated and he recalls a time of sadness and loneliness until he met his present wife Linda who attended the same church.


"I finally realised that life will have ups and downs," he says. "Just like the weather we have sunny moments but also cloudy or stormy skies. Hope is always there and God is looking after us."


More new learning


But talking and listening are a little different from studying, particularly in a bi-cultural university, where, while the learning medium is English, the kaupapa and the majority of students are Maori. And you are the oldest person in your class.


"Everyone thinks it's going to be hard and that was my thinking as well, but after a week or so you feel adjusted to the environment." Wayne admits that when he first arrived and looked at his new classmates he felt a little intimidated – they seemed very big and many of them had tattoos.


"But I discovered that they are so friendly and even though our culture is different and our language is different, we managed to communicate quite well."


Helping his people


Around five years ago Wayne says he started to think about what he should do when he stopped selling houses. While the money was good, that was really the only satisfaction. Selling real estate is stressful, the lifestyle too busy and too fast. He knew he didn't want to stop working, but he did want a change of pace.


"Then I just got the idea I should use my knowledge to help my people. I thought, how can I help my people? And I just came across Te Wananga – and they offered a free course for the Certificate of Social Work and so I thought, 'oh why not give it a try, it will cost me nothing.' When I finished that course, I loved it."


Connecting with another culture


Maori culture was completely new to Wayne, but he found some similarities with his own Chinese culture.


"They value their whanau very much – their families and the extended family. For Chinese we also value that. Also their way of sharing food – we don't have our own plate – we just share it in a big table with 10 or 12 people and Maori do the same thing," he says.


Another common value is respect for elders. "The Chinese principle is that young people always respect their older people; they should look after their older people and Maori have that same principle. But what happens today is that most young Chinese don't have that respect – they are not as respectful – and I think Maori have the same problem. I think young people's attitudes are changing."


Changing attitudes to elders


It was an example of changing attitudes towards elders that triggered the idea of the Evergreen Trust for Wayne.


He tells the story of his friend, a 55-year-old chef who had a stroke and was told by the doctor that he could no longer work. He didn't have much money or any savings and asked Wayne's advice about getting a benefit from Work and Income. Wayne got the forms for him and thought that was that, but after about a month rang to see how things were going. His friend hadn't been able to fill out the forms because his English wasn't good enough. He'd asked his children to help, but time had gone by and his friend confessed that his children were probably too busy to help him. "I asked him to come over that night and I filled out everything," Wayne says. "After about three days he got an appointment with Work and Income and everything was sorted out. He was very happy."


Wayne realised he knew others with similar problems. Because most elderly Asians move to New Zealand with their children, many experience great difficulty adapting to a new country – a new language they don't speak or understand, a culture they struggle to understand and many places they do not dare to explore. To add to their difficulties, their sons and daughters may be working all day, sometimes seven days a week, leaving their parents alone at home or looking after grandchildren. Added to that they have very few friends in New Zealand.


"Auckland is one of the most liveable cities in the world, yet our elderly can't enjoy it," Wayne says.


Connecting people and services


The trust aims to help make life in New Zealand more enjoyable for older Chinese immigrants.


Wayne, along with a fellow social worker and a probation officer, both Chinese, will provide free services. "We are going to help our Chinese people – we want to do advocating for them. I think the best way we can help is to do referrals for them, so we are trying to find out what their needs are and then we will try to match them to the social work organisation that can provide that particular service.


"We also want to provide some entertainment such as coming together and chatting so that they know each other. We will ask people to come and give them some health education, for example, or get someone to teach them exercise like dancing or tai chi."


Family and community


Wayne is a long-time Anglican and attends an Anglican Chinese church in Epsom. He and Linda travel back to Hong Kong as much as they can to see family and friends and to fulfil family obligations. They still observe traditional rituals such as Chinese Memorial Day where graves of deceased family are tended, blending the traditional with their Christian beliefs.


When they're away from their home country they enjoy contact through social networking.


"My classmates in Hong Kong – they are old men and old ladies now– but we are still connected on Facebook," Wayne laughs.


A healthy future


Health and exercise are important. Wayne and Linda walk for an hour every day – in a park if it's fine or window-shopping in the mall if it's raining. They might go into the city from their Mt Roskill home for yum cha after their walk. At this stage of their lives, it's clear they look forward to enjoying each other's company a bit more, especially as both daughters are overseas at present – Vivien working in London, and Trish travelling on her OE.


"My plan is to work for another five years and then I'll step down," Wayne says. "At that stage I will concentrate on my family life and I will try to do some travelling because travelling is my favourite thing to do."


What helps people age successfully?


"It's always about the thinking. If you are thinking in the right direction you can age positively. If you are not thinking positively, you will not age positively.


"Money is a necessity, you can't live without money, but it's not everything – you need something else. Many things are more important than money. Your family is so important, your friends are so important, your connections with other people, your attitude, your thinking."


When is a person old?


"I don't think your body will make you old. The mind will make you old. What I mean is even though your body's old, if your mind is young, you will be young."


"For myself I think ageing is a blessing. Everyone will be old. But it's a blessing to be able to grow to a certain age. When the baby is born the baby is going to death every day – that is quite true and everyone will die. But every day of your life is a gift from God, so don't waste it!"