Twenty-two-year-old Caleb Ihaia is a second-year apprentice at his dad's South Auckland-based plumbing business, DMI Plumbing.
He enjoys the work and has a bright future ahead, so things are looking good—but it wasn't always this way. enjoys the work and has a bright future ahead, so things are looking good—but it wasn't always this way.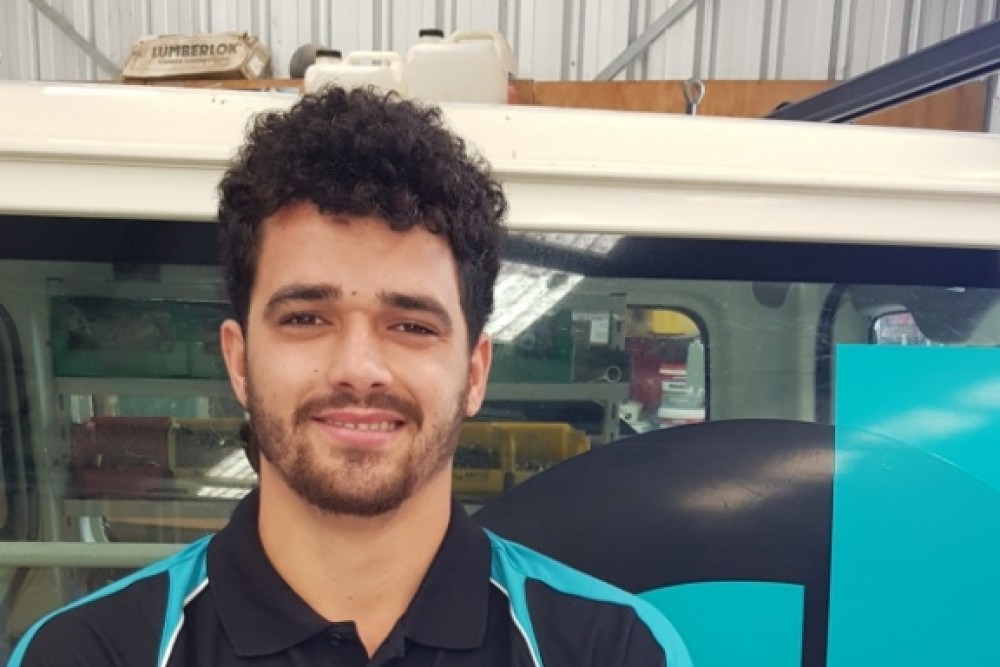 Downward spiral

Five years ago, Caleb left home for uni in Wellington. Halfway into his first year, he realised his mental health was suffering as he didn't want to leave his room to eat or socialise with his fellow students. "I was far from home, having a hard time adjusting, and wasn't enjoying the course," he recalls.

"I was having real trouble with confidence, thinking people didn't like me and that I'd say something stupid or screw up socially. That led to me not wanting to interact with anyone or attend classes and lectures."
At first no one noticed because, as Caleb says, universities are large, so it can be easy for individual students to be overlooked. Eventually, however, the counsellor at his residential hall noticed his absences and visited him a few times to talk things through.

Caleb also went to the GP about his low confidence and was put on medication. But by now, he wasn't eating or sleeping enough, and his anxiety was feeding into depression.
Heading home

The situation reached crisis point when he found himself thinking about taking his own life. Fortunately, he stopped himself - but he knew it was time to go home.

"Neither of my parents were aware of what had been going on because I didn't want to worry them or make trouble for everyone," says Caleb. He needn't have worried, though, as his family have been hugely supportive and have helped him find a good psychiatrist, who has adjusted his medication to get it working effectively.
Before Caleb went to uni, he had been doing some labouring work for a local company and he got back in touch with them on his return. "It was hard at first, as I didn't want to feel like I'd failed by giving up uni," he says.

He soon realised he was feeling more and more comfortable in a hands-on role, so decided it would be a good move to do an apprenticeship—and his dad was more than happy to take him on as part of the team.

It's likely to take a long while for his mental health to recover but he says he feels better now than ever in the past. "I'm a lot more confident and able to talk to other people again."
Opening up

Caleb says he's learned a lot from what he's gone through and is always willing to listen to and understand others who may be dealing with similar issues.

At the beginning of last year, he went on an Outward Bound course in Anakiwa and decided to open up about his experience with his team mates to gauge their reaction. "The positive response was overwhelming," he says.

"For a long time, I didn't talk to others about it because I was worried they might treat me differently or tell me to toughen up. But everyone has been supportive, and no one has been demeaning. I've become more aware that people are not going to judge you."
The current construction industry culture means a lot of people may be putting a brave face on things, Caleb believes. "It can be surprising to find out who has mental health problems."

Having spoken to a couple of other tradies with anxiety and depression, he's also learned that some don't want to rely on medication. "To me, if you have asthma or some other physical illness, you take medication, so it's OK to do the same for your mental health."
Fundraising for mental health

The experience has also made Caleb want to help others. "I know how I felt at my worst and how isolating it can be. I am really lucky to have a supportive family and the money to go to a psychiatrist. I don't want to think what it must be like for those without this kind of care in place.
This September, he is set to travel to Peru for a five-day fundraising Trek for Mental Health on the Inca Trail to Machu Picchu. Organised by the Mental Health Foundation, the team adventure raises funds to help increase awareness about mental health and reduce the rates of suicide in New Zealand. He is also planning other fundraising activities during the year.

Right now, though, he's busy saving to pay for the airfares to South America—another bonus of switching to an apprenticeship is earning money instead of amassing debt from a student loan, he says.
Message to others

If Caleb were to have a message for others, it would be that rock bottom doesn't last forever. "Depression and anxiety can come and go but it's only temporary—and there are people out there who care about your wellbeing and want you to stay strong, even if you don't know them yet.
"There are always people to talk to: your GP, a teacher at school, a mental health hotline. It's important that you tell at least one person out there. Even if they can't help you personally, they can direct you to someone who can."