Bryan Moore is never one to wake up asking himself what to do with the day.
The retired veterinary surgeon is more likely to ask himself: "How is it that now, when I should be able to indulge in leisurely acts like reading and listening to music and just pottering, life just seems busier than ever?"

Bryan has always subscribed to the idea that being of service to one's community adds spice to life rather than being a chore or an obligation. At 77 he's fit, healthy and his diary is full. He keeps a constantly updated daily to do list and there's a yearly planner pinned to his study wall.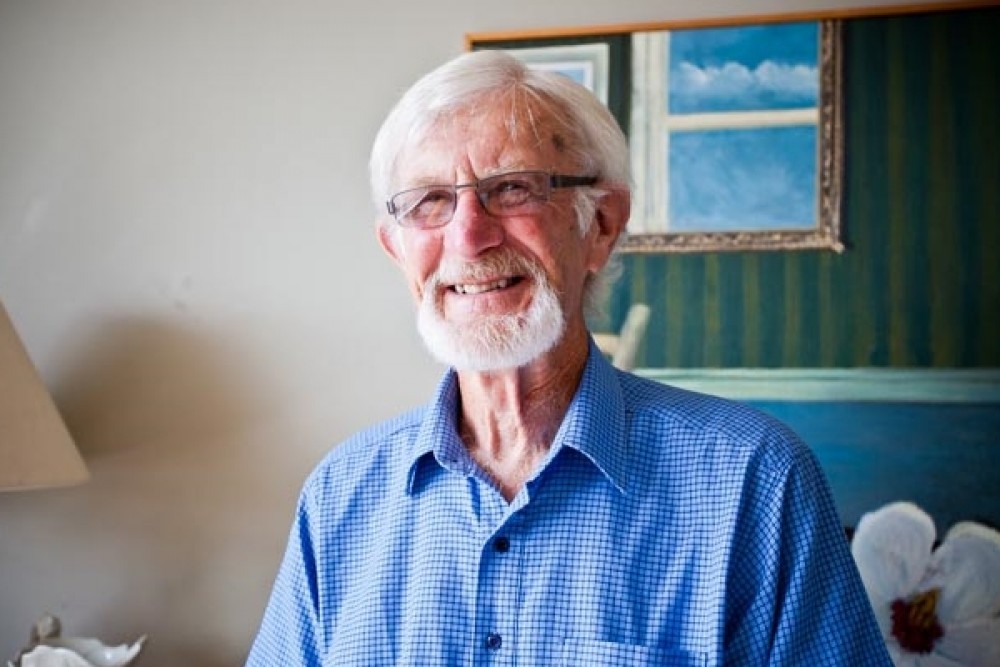 On the computer desk in their comfortable home in west Auckland's bush suburb of Titirangi, lies a large diary, kept jointly with his wife Rosemary, to avoid any double bookings.

"This is a great time of life," Bryan says.

"You're not distracted by having to bring up children, so you can devote more time to your relationship with your partner. Once the kids are on their own journey, you see your relationship in a different light. The element of companionship becomes much more important, particularly if you share similar interests. We each accept that the other is going to do things on their own and have separate interests, but we've got a lot of common interests and I think that's incredibly important."

Learning and memory!

Both Bryan and Rosemary are passionate about live theatre. They're long-time members of the Titirangi Theatre Company, where last year they played the lead roles in On Golden Pond. Learning their lines was a huge challenge. As the cantankerous Norman, Bryan was on stage for the entire duration of the play. He allows himself a small measure of pride in what was a huge feat of learning. "I might forget things on a day-to-day basis, grope for a person's name or a location, but when it comes to actually applying yourself where you've got some incentive to memorise something – it might take a bit longer – but you can still do it."

For many years too, he's sung in the bass section of the Heaven Bent a cappella gospel choir – another memory challenge, as the choir performs without reference to musical scores.

Volunteering for literacy

Volunteering is an important part of life for the couple. Both have been volunteer literacy tutors for some years and more recently have completed training to deliver a programme for prisoners, encouraging them to be able to read stories to their children.

Another voluntary role for Bryan is helping refugees settle into their new surroundings. He says he always feels he gets more out of the work than he puts in and it helps him understand more about our increasingly multicultural society – something that older people sometimes grapple with.
Bryan's also been keen on the outdoors since boyhood and he regularly heads off into the Waitakere Ranges, to help bait and clear traps for predators like rats, stoats and ferrets.

It seems that being helpful is something he absorbed as a child, growing up during the World War II years in what he describes as a very secure and loving home environment. Like most people in the small Taranaki town of Patea, his family struggled financially, but he never felt deprived of life's necessities.

"My parents were very self-sufficient. My father was always a handy sort of person and I picked up on his manual skills. He was a gardener, he was a wood worker. You always fixed stuff yourself, you never used a tradesman. So I picked up on that, I'm quite a handy sort of guy. And I recognised when I was growing up that he was always doing things for other people because he was handy and seemed to be an outgoing, friendly sort of person.

"I think I've taken on that philosophy that community service adds a lot of pleasure to life. I've never felt that you have to be involved in voluntary stuff. That's the way life is, if you have skills, you make them available."

The importance of being active


Bryan usually manages to get to the gym at 6.30am, three days a week.

"On the other days Rosemary and I go for a walk. Every day I try to do something physical. Gardening is quite remarkably physical. Digging compost, putting up a trellis – I don't feel any limitation in doing outdoor things," he says.

"I was talking to my gym supervisor this morning asking if there is any evidence to show that you get weaker as you get older. Apparently you do tend to lose muscle body, but there's no reason that you can't maintain what's left. I've incorporated some heavier weights into my programme and I'm sure that I'm stronger than I was 12 months ago."

To date, the only medications Bryan takes are statins and aspirin. "I have remarkably good health, and probably genes have a lot to do with that. But I've been doing this gym thing for about 30 years and I think: 'Aren't I lucky that I kept myself in physically good shape because now it's paying off.'"

Keeping his mind exercised along with his body is equally important and he takes his iPod to the gym – listening to podcasts, French language tapes and audio books downloaded from the public library. "I look forward to going to the gym sometimes because I want to listen to the next chapter of my audio book!"

Staying connected to the community

Like many couples in their 70s, Bryan and Rosemary carefully considered how they wanted to live in their later years. They decided that rest homes or retirement villages were definitely not for them.
Two years ago they moved house, bucking the usual age trend by buying a bigger house, albeit on a smaller section of land. "There was never any thought that we would move out of the area because we both recognise the importance of our social network," Bryan says.

"More than anything else that's the thing that determines where you live. People who look forward to going to the beach and living a leisurely life when they retire, well we're wise enough to know you can't take your social network with you. Life can get very lonely at the beach if you don't have that group of friends.

"We've had friends who have moved to the inner city and they are lost to us. It's ridiculous but these social networks depend on regular encounters. You've got to think about keeping in touch with people."

A less stressful lifestyle

Bryan officially retired aged 72, having done veterinary locums for around 20 years.

"I had decided that I wasn't going to be chained to a practice for ever, so I elected to sell my share in the partnership when I was in my 50s. Our children, Adrienne and James, were well grown up by then and Rosemary and I decided to go travelling in Europe. When we came back I had no desire to be anchored to a business. There was plenty of opportunity to survive just doing locums. We could travel and work to pay for the travel, and I could fit in a few other interests in between. Being a vet is quite a stressful occupation. You start to look at your life and look at the causes of stress and question what things are more important in life than running a business and making a lot of money, so I opted out in a way."

Travel has continued to be a shared joy, with regular trips to see their daughter, and two grandchildren in the United States. Later this year they plan a month-long house swap in France, a country they both enjoy. In fact, to celebrate turning 70 Bryan combined both his love of tramping and of France by walking 1100km across the French countryside – from Royan, a seaside resort town north of Bordeaux, to near Nice in the south. It took him two and a half months, and along the way he raised several thousand dollars for a friend's Volunteer Service Abroad project in Africa.

At home, the Moores are keen campers, often taking off for a few days at a time to explore, walk, read and enjoy a quiet glass of wine and simple food in a tranquil spot. Bryan has always been an avid gardener. At their new house he set to work straight away to create a garden with cheerful pots of petunias, a trellis of sweet peas for Rosemary, tubs of well-staked tomatoes, rows of vegetables and potted herbs destined for the pesto and chutneys he enjoys making.

Spirituality

Bryan grew up in the Methodist church and while he thinks there is a spiritual element to life, says he would probably describe himself nowadays as an agnostic. He half jokes that if someone took him in hand he might well become a Zen Buddhist. Spirituality for him is perhaps expressed more outwardly in both his love of nature and in his sense of connectedness with others.

"I have some very ingrained beliefs in social equality and a commitment to global support networks. I've always felt the world's an interconnected place and this is a rich country with a moral obligation to support developing nations," he says.

Future plans

"I've never thought of myself as getting older. But this year, my 77th birthday, I started to make my list of all the things I wanted to do and thought if I don't do things this year, I might never do them," Bryan says.

"It's the first time I've ever thought the future isn't open-ended any more, the possibilities are narrowing down. I felt a little depressed by that; that's old people thinking. That's a new feeling for me. And it's not because of any physical changes, I think probably there does come a stage when you think, 'my life is finite.' So it's seize the moment!"

For Bryan there is much yet to be seized from life. In line with the changing world there's the challenge of creating a more sustainable lifestyle. "I've had this dream of having a much more self-sufficient living environment. I'd like to collect rainwater, become more energy conscious, maybe with solar energy in our own environment and growing almost enough vegetables to live on. I'd like to explore that a lot more," he says.

When is a person old?


"I think when you become dependent, and allow yourself to become supported by other people, then you're acknowledging that you're old. That, to me, is the ultimate denigration – when you've lost your independence."

To Bryan one of the keys to ageing well is having a range of interests.
"It's the ability to not only be engaged with a whole range of things and people, but to actually feel that you've still got something to contribute. That I think is one of the most important aspects of quality of living, feeling that you're still valued."

For those entering their senior years, Bryan's advice is to "seek out the new".
"I think it's really important that you don't hold back on things, that you experiment. If you do something and it doesn't work out don't angst about it, keep on trying things. Be adventurous. Be open to whatever's coming along. Feel that there are opportunities out there to do new things all the time."