A group of women sit around a large table, knitting or crocheting. There's an atmosphere of quiet concentration with just a low hum of occasional chat and the odd burst of laughter.
Every now and then a tutor checks a stitch or guides a hand. It's Monday morning and the first SuperGrans group of the week in Palmerston North is underway.


"We help people to flourish by sharing skills and knowledge between generations and across communities," says SuperGrans Manawatu manager Kim Penny.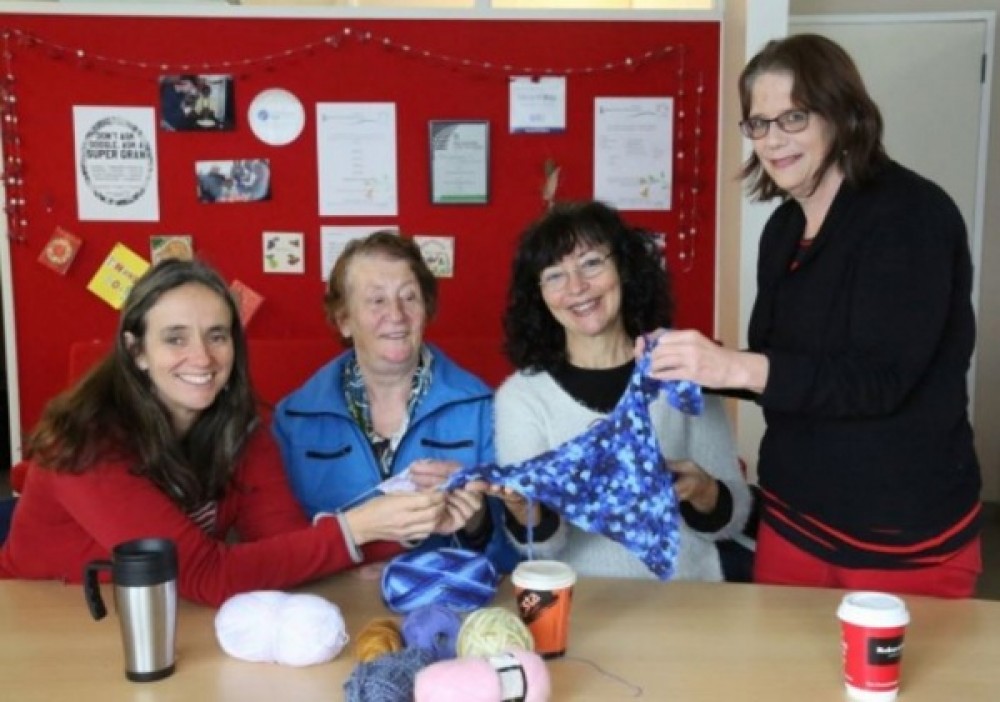 Skills might include basic cooking, budgeting, household management, gardening, sewing, knitting and crocheting. Mentoring by SuperGran (and the occasional SuperGranddad) volunteers is done either one-on-one in the person's home or through group workshops.

Clients are often young mothers under stress, new migrants, people with disabilities, and sometimes older people who might be feeling a bit lonely. Though the brief is focussed on skill-sharing, there is obvious spillover into social connection.


"It's really about helping to create resilience in families," says Kim. "We are always about creating independence in the clients and then being able to withdraw. Even if they just learned one thing – that might be just what they really needed."


Simple home-making skills connect generations


SuperGrans began in 1994 after Lower Hutt woman Erin McMenamin noticed people at a local food bank taking items like rice, flour and porridge out of their food parcels. They obviously had no idea what to do with them.


Her idea of passing on simple home-making skills eventually turned into SuperGrans Aotearoa. It now has affiliated independent trusts in seven centres, supported by a combination of trust, community and Ministry of Social Development funding. For the government there is obvious social advantage in supporting this combination of early intervention for struggling families on the one hand, and providing meaningful activities for older people – a key objective of the national Positive Ageing Strategy – on the other.


Tutor Judith Barsanti, 65, is more than happy to pass on the sewing, knitting and crocheting skills she learned as a young woman living in the YWCA hostel in Palmerston North.


"There was no TV and we girls had to have something to do in the evenings," she recalls.


Judith was forced to retire after injuries from a motor accident left her unable to return to paid work.


"I started to look for something to get me out of the house, and that was when I noticed SuperGrans," she says. "It has been very special for me – not just being able to pass on my skills, but feeling that I'm still useful to the community even though I can't earn money."


Community cooks


Cynthia Landa arrived in Palmerston North from Peru 25 years ago and didn't know much about cooking. Nowadays, as course coordinator, she organises the cooking classes along with others that SuperGrans offer. She's enthusiastic about her latest one, a cooking class for men over 55.


"One guy, his wife sent him along," she says, "and another one has a wife with dementia. New migrants like to be part of a team to work together learning new skills and gaining confidence. For some people it's their only outing. And they can eat. Also people talk and make a connection with each other. When they make their marmalade or jams they will talk about their families, maybe tell stories about their grandmothers.


"We've seen a lot of beautiful results," she smiles. "It's so nice when someone comes back and says, 'We can cook this now and my kids just love it!'"

This story is part of a series exploring intergenerational relationships. The Connecting the generations series is one way the Mental Health Foundation helps people prepare for a later life that has meaning, purpose and joy.