Areta Koopu, CBE, is one of a generation of outstanding Maori women who has served her people in a variety of roles.
She's been a marriage guidance counsellor, a long-time member and former International President of the Maori Women's Welfare League, Human Rights Commissioner, a member of the Waitangi Tribunal and she continues to serve on a number of committees.

At 73, Areta (Te Aitanga a Hauiti, Ngati Kahu), is not exactly slowing down, but she is choosing her roles more carefully. After years in public life, her current priority is looking after her three mokopuna in Auckland while their parents work – a responsibility she takes seriously and clearly enjoys.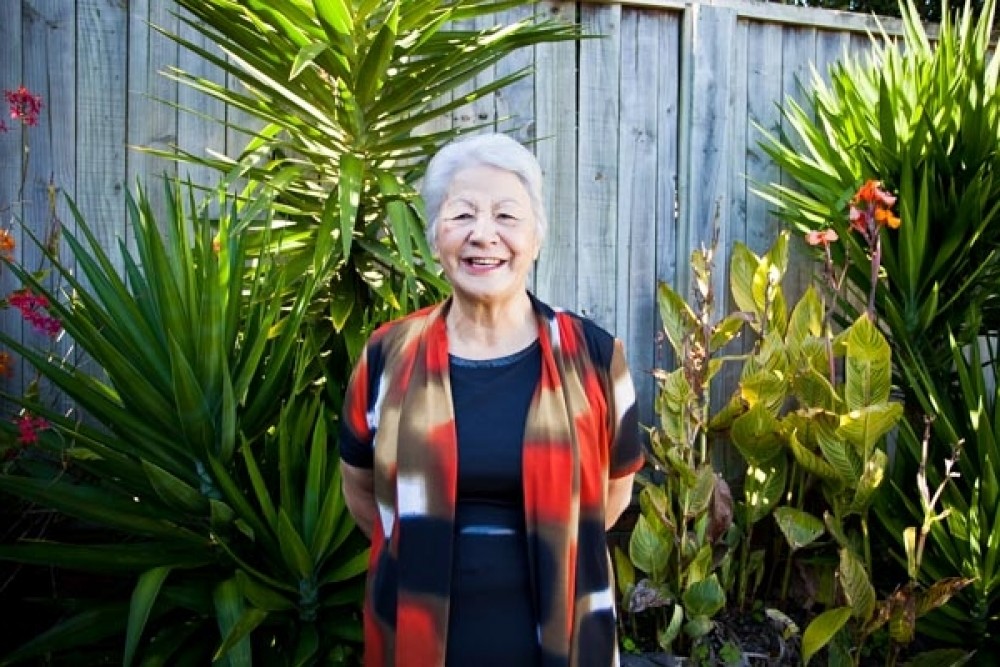 Areta deftly produces an espresso from a state of the art machine and checks her smartphone before settling down to talk. This vibrant woman exudes warmth, good humour and confidence. Growing up with whanau on the East Coast had a lot to do with it.


"I felt safe because everybody cared," she recalls. "I thought if I stepped out of Gisborne everybody was going to love me like they did at home. I could go anywhere. I can't say that was so true when I did step out of Gisborne, but it also wasn't unsafe because I had so many relatives around and someone always looked after me. I suppose basically my life has always been about family – I'm very whanau-oriented."


These days that orientation means getting up before her mokopuna – Anitautau, seven, Reremoana, four and Hoera, two – wake up. "You get up, get yourself ready, then you're running!" she laughs. Two days a week she drives the children to school through busy Auckland traffic. After school, she's there to enjoy games on the iPad as much as they do. She expertly demonstrates a word-finding game which has helped one of her mokos with reading. "The kids just love it. Of course they're always out to beat Nanny, and you've got to let them win because how else do you build their confidence?"


A toolbag for life


"I have always gone through life with a bag of tools," Areta explains. "One of the tools, for me, has been to listen at the level of whoever you're talking to."


"I find with the children, when they want to tell you something really important you can pick it up. Parents are quite often too busy – and it's always 'no' or 'not now'. Because I don't have those sorts of pressures I can have that empathy."


A number of tools gathered along the way come from her many years as a marriage guidance counsellor in Rotorua, where she had settled with her surveyor husband Hoera (Joe) and their five children. After Joe died in 2005, her daughter Pauline's family invited her to come and live with them.


"And there began the work!" Areta laughs. "What I keep saying to nannies is because we have life's experiences, we can share the positive ones with our mokopuna. I'm not saying we're right – and you have to be careful about not interfering – but by helping them learn to negotiate and communicate, you are teaching them self-confidence and to like themselves."


Role models


Looking back, Areta recalls some early role models. Her family was involved in the Maori Anglican Church and she recalls the Bishop Panapa inviting her to read a simple lesson in church when she was about 12. That was a great confidence booster. Her mother also had a big influence, particularly after Areta's father died. Areta was 15 at the time, one of the younger children in a large family.


She recalls her mother's incredible adaptability and resilience; qualities she has taken on in her own life.


Her mother, who had herself experienced poor health, had to find work.


"We all had to get ourselves off to school, and our mother walked down the road to catch the bus to the hospital. She went to work to earn money to feed us."


At 17, Areta got a job at the Railways in Gisborne and then went to Wellington to work for the post office.


"Mum also rebuilt a three-bedroomed house and the back half-acre of that is what we still have. I came back to Gisborne to help her with the house and then I met my husband."


Retirement, yeah right!


Areta's home marae is at Whangara between Gisborne and Tolaga Bay – famous as the setting for the book and film Whale Rider. She recalls going there in 2002, not long after she'd retired from her job as Human Rights Commissioner, for a marae AGM. Because of the responsibilities she'd held, especially as an internationally known trailblazer for indigenous women, her CV was well-suited to a diplomatic posting of some kind, but she was brought down to earth by her people. They asked her to take charge of helping to restore the marae buildings, the ablution block in particular.


"Gee I went over to the cemetery and I was crying with my parents, telling them how I thought I was going off to be the ambassador of some flash country, and here I am back in Whangara building toilets!" She can laugh now.


"I just got the most fantastic help, mainly through the church, and before I knew it we had our first lot of money. Both wharenui were finished and we now have one of the flashest toilet blocks on the coast!"


Health and staying active


Areta remembers being in hospital with pneumonia as a child with a shudder. Three of her siblings had died from it in childhood. Since then she's had a few health hiccups – a gall bladder operation, these days a bit of arthritis, "but you just cope with that", and more latterly, a second hip replaced – a real Rolls Royce job if her surgeon is to be believed. He did have to veto her plans to walk a marathon shortly after her operation though. A bit of golf maybe, without the backswing, and swimming – that's something she's always enjoyed. In fact she was swimming one day in 2008 when she received what was to be her closest call yet to meeting her maker.


"I was puffing as I got to the end of the pool. I thought maybe I should go to the doctor." Not long after she'd had to make her way up the stairs at home in Rotorua on her bottom. "I had no energy to get up the stairs on my feet, but I still hadn't thought it was anything serious." Luckily her daughters thought otherwise and next thing their mother was in intensive care getting a new heart valve. The puffing was heart failure. Areta laughs as she remembers waking in ICU to her sisters crying over her. "I thought I must be dead!"


"So that was interesting," she says dryly, "but I just bounced back from that – so far so good. I have regular check-ups and have to take warfarin (blood thinning medication)."


Using technology


Unlike many people her age, Areta has no fear of new technology; iPad, smartphone, whatever. New technology was something that came along for her in 1985 in the form of the fax machine. At the time, she was secretary for the Waiapu Maori Anglican Diocese – a voluntary job.


"The clergy would come in for training. And when I saw all of them I wondered how we could communicate better with everybody." At the Waitangi Tribunal she'd been involved in the fisheries claim and had seen how the lawyers had got information in from Scotland overnight – by fax. "So I suggested we buy everybody a fax machine."


"A year later there was a new programme on the computer– the first Excel spread sheet – and I said, 'Show me what to do with that.'"


Until her recent hip operation she had her own blog site, mostly about health and whanau news. A Facebook page too, though she restricts herself because she says a person could spend all day on it.


Successful ageing


"Care for yourself, care about yourself," is Areta's advice when asked about successful ageing.


"A lot of old people don't like themselves, don't like where they're at. People still need to get to know themselves in older age. As you get older I think it's more about liking yourself at this age. I think you have to be careful about that with your family too – because they can see you as old. I'm always saying, 'Hey I can do that for myself, I'm still here and I will make my own decisions.'"


Being curious is also helpful. "I'm a nosey person," she laughs. "I think giving yourself the freedom to do whatever you think you want to do, have a go. If it doesn't work change it, try something else. A lot of people just don't try again."


For her the concept of loneliness is alien. She has always felt her tipuna – her ancestors – are there with her, whether she's at home or abroad. "I grew up knowing they were never far away. They're always there and I have never ever felt alone."


The age of freedom


As for herself at 73, "well I don't feel 18 anymore," she laughs. "You just know there are things you shouldn't do now – and there are things you need to do. As long as you can find things you enjoy doing.


"I think this time of life, it's still the continuum. I don't think it's any different. But you notice different things. You notice that you kind of do slow down or you might forget to do something.


"One of the things I like about this stage of life is you can choose. If I say someday, 'I want to sit down and watch television all day' – though God help my back if I do – I can. I suppose there is less responsibility for others – and that's not something I had thought about until I got to the stage where I had to start taking care of myself with little bobs and pieces starting to fall off! You know you are getting older – I think your age is a number only, but I'm not sure that there aren't some consequences that go with that!


Areta says taking on new challenges and embracing rather than resisting change helps older people to live well. She does acknowledge that change is not always easy. "Downsizing is one of the most painful things I've done," she says of her move from Rotorua to Auckland.


Full circle


While her current focus is on helping bring up her grandchildren, Areta has future plans to build a house back home on the East Coast, on land inherited from her mother. There's still some unfinished business at the marae too, with another $150,000 to be raised for a new dining room. Both are prospects that don't seem to daunt her.


Of course she's not expecting to be alone. Her whanau will follow. Wherever she's been, the Maori world has always been her mainstay. Her children were brought up to know their whakapapa and to have an affinity with their marae. So it will be with her mokopuna.


"No matter how far apart you think you drift, at the end of the day when something happens, and who's there? It's whanau," she concludes.


For Areta, there are no regrets about the journey so far. "There's only so much in a wish bucket, eh? And such a lot of things have happened without me having to wish for them."

KICK STARTERS Like yourself at the age you are. Focus on the positive things about it, rather than yearning for what once was. Spend time with children. They'll keep you feeling young and make you smile. If you don't have grandchildren of your own, borrow someone else's (with their permission of course), or chat with the kids in your neighbourhood. Who do you admire? Notice things about other people your age that you would like to emulate. What is it that you admire about them? Keep adding to your store of role models, the people who inspire you.