Their one-bed studios come with large shared facilities, plus a veggie garden. It's a great housing option to retain wellbeing in your later years.
A shared enthusiasm for painting has opened up fresh horizons for Don Hutchinson (81) and Tony Bouzaid (77) and they've become good mates in the process.


The pair met as
Abbeyfield residents
four years ago, and Tony (pictured right) suggested Don come along to classes at the local art club. Though neither had painted previously, they were soon hooked. Now many of their works decorate the walls of the homely Abbeyfield lounge in Stoke (Nelson).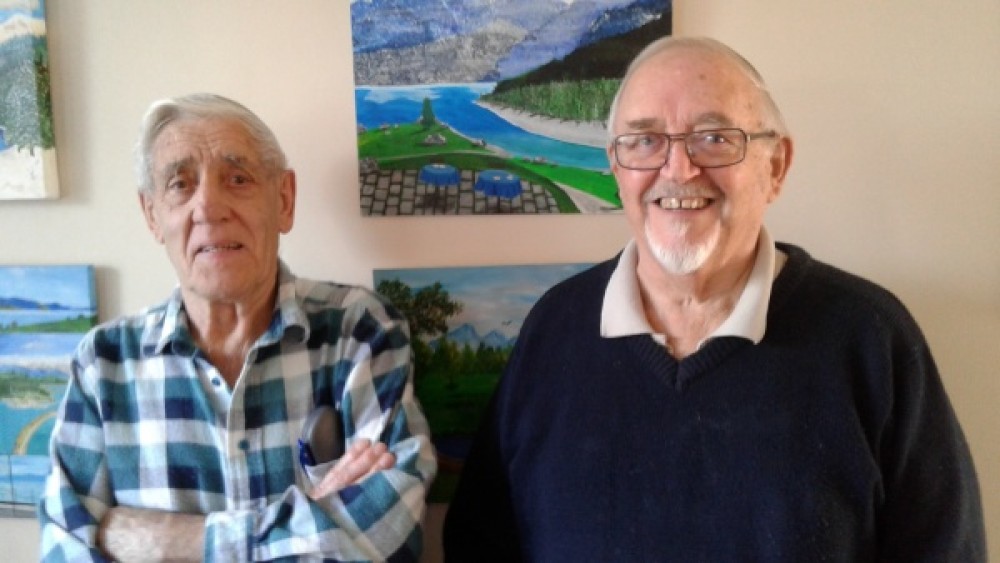 Established 23 years ago, the Stoke complex of one-bed studios with a large shared lounge, dining, kitchen and laundry facilities, plus a veggie garden, is New Zealand's oldest Abbeyfield house.


There are now 11 others scattered around both islands, with number 13 in Leeston, south of Christchurch, about to open. Abbeyfield houses support around 130 people, most of them over 65.


Goodbye to loneliness


The Abbeyfield model originated in England after WW II and has since spread to many countries. It's a volunteer-based trust that provides affordable rental accommodation for older people.


Potential residents are often socially isolated. Many have been widowed or living alone for years. All are capable of independent living, but wanting companionship and safety – vital ingredients for their wellbeing.


"Loneliness is not just a social issue – for older people especially it has a real impact on mental and physical health and wellbeing," says Abbeyfield NZ Executive Officer, Susan Jenkins. "The sense that no-one cares can lead to a loss of interest and motivation for such essentials as keeping up regular balanced meals, which can quickly lead to a myriad of health problems.


"The Abbeyfield way offers companionship with fellow residents, wrapped around with the support and genuine care of the volunteers who operate the house. It is one of the great joys of being involved with Abbeyfield to see the difference it makes to the lives of many residents," Susan adds.


Unlike many retirement villages, one of the requirements for any new Abbeyfield, is that it is close to shopping, medical and other community facilities and handy to public transport.


There is no asset testing and no religious strings attached. Tenure is secure as long as people remain independent or want to stay.


In Christchurch where a new Abbeyfield opened in 2015, several of the 12 residents had been left in a situation where they couldn't buy another home, or were facing rocketing rents. One resident had been living in a caravan.


Weightwatchers beware!


The houses run on the principles of tolerance and respect for others. Residents take part in the house management committee, and there is a volunteer house manager and a paid onsite housekeeper who cooks the shared meals.


"The housekeeper is key to our model," says Susan. "When you bring 10 or 12 people together who have been living alone previously, you can imagine there may be a few issues. As well as cooking and shopping, the housekeeper keeps a general eye on things and helps with the smooth running of the house."


Rent covers all costs, including meals apart from breakfast, eating together is mandatory.


"When people are isolated they often lose interest in cooking. It's easy to think, 'I'll just have a tin of baked beans'," Susan explains.


At Stoke, Tony and Don share the house in-joke that "no one loses weight at Abbeyfield". Having main meals cooked for them is a highlight.


Adjusting to a new community


Don, a widower, was previously living in the country with his adult son who has severe disabilities and is now in care. "I might have gone to Blenheim to my nieces and nephews, but I didn't want to go too far away from my son," he says of his decision to live at Abbeyfield.


Tony shifted from Christchurch to Nelson to be closer to his son. He was living alone in a flat. "My daughter in Queenstown knew all about Abbeyfield. She brought me here and booked me in," he laughs. He's had some health problems but having others around full-time gives him a sense of safety.


The two men agree it was an adjustment at first, but they're certainly not lonely.


They each make their own breakfast, do their washing and ironing – well not so much of the ironing – and there's always something going on in the art world. Don can often be found sweeping up leaves around the place. And there are opportunities for giving a helping hand to other residents such as a friend who has Parkinson's.


"It's an ideal set up for somebody like me," says Tony. "I can't understand why there are not more places like Abbeyfield."


Susan agrees. "Our aspiration is to be in every major town in New Zealand. With elder loneliness in the spotlight and the number of people over 65 set to more than double over the next 25 years, there is considerable scope for Abbeyfield's unique approach to respond to the needs of many more communities in New Zealand."


This story is part of a series exploring different living arrangements for seniors. The Going it together series is one way the Mental Health Foundation helps people prepare for a later life that has meaning, purpose and joy.